A purple passion
Share - WeChat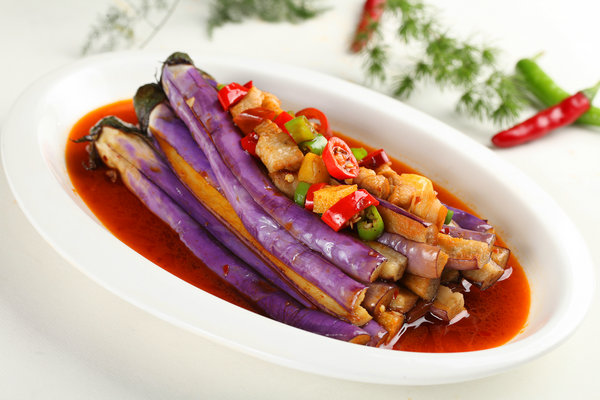 They are mainly purple, but also come in white and green. They can be as small as a thumbnail or as big as a small football, and can be long and thin, egg-shaped or round.
This is the eggplant, also known as aubergine in certain European countries, and brinjal in Southeast Asia.
It is an enigmatic fruit, classified as a berry but mostly eaten as a vegetable. It should always be cooked well to neutralize the bitter seeds.
Some people hate it and others love it so much that the finished dish is reserved only for favored sons.
In Japan, for instance, there is an old folk saying: "Don't waste nasu on a daughter-in-law." Of course, we hasten to add that it's an obsolete attitude and nasu, or eggplant, is a universal favorite in Japan.
Cooking it requires confident kitchen skills. The spongy, dry texture of the eggplant needs sufficient heat to tenderize and enough oil to turn it into a creamy sweet pulp.
Even when it is made into a pickle, it has to be steamed first, unlike other vegetables.
Perhaps because of its need for such attention, the eggplant is not a favorite on Western menus. Its popularity started in the Middle East and lower Mediterranean, then spread eastward all the way to India, sweeping down to Southeast Asia, then on to China.
In these countries, there are many dishes that prominently feature the eggplant.
There is moussaka-layers of eggplant and minced meat baked under a cheese sauce-or baba ghannouj, a savory eggplant mash eaten as a dip, both from the Middle East. In India, eggplant is made into relishes and curries, while in Thailand tiny button eggplants go into curries and spicy sour soups the region is famous for.
Eggplant has been eaten in China for thousands of years, and it is roasted, fried, steamed, braised and pickled in a huge variety of recipes.
The plant is treated as an annual in the temperate parts of China, but in the south its habits are perennial. It grows almost as tall as a man, blossoming in late spring to early summer with tiny purple or white flowers that develop into fruit.
The berries are sheltered by large palm-shaped leaves before they grow big enough to catch the sun. Eggplants are best eaten young, since the mature seeds get very bitter because they contain nicotinoid alkaloids.
The eggplant is considered a "cooling" food in traditional Chinese medicine and is recommended for summer. It is rich in calcium, potassium and vitamins, especially vitamin E. Traditional Chinese medicine says it is good for blood circulation and the digestive system.
Most Popular