Time-honored brands set for a facelift
Share - WeChat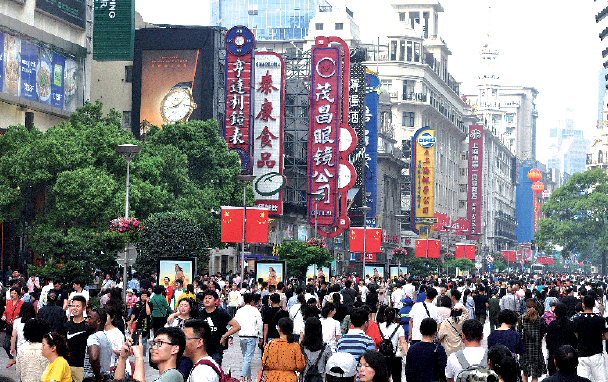 In a bid to bolster the city's retail sector and boost consumption, authorities will be providing support for local companies with great historical significance to innovate and stay relevant in this modern era
Shanghai's shopping scene is set to become more vibrant through the revitalization of local time-honored brands as part of efforts to build the "four brands of the city", said the municipal government in May.
The four brands refer to services, manufacturing, shopping and culture.
"A shopping paradise is defined as a place where people can get whatever they want," said Shang Yuying, director of the Municipal Commission of Commerce, during a news conference detailing the three-year plan to turn the city into a shopping paradise.
Besides satisfying the current needs of shoppers, the city would also need to anticipate new demands in order to compete with the likes of New York, London and Tokyo, added Shang.
"Apart from globally reputable brands, the 'bricks' to turning shopping into one of the city's four brands are the hundreds of local time-honored brands which will not only lure more international and domestic tourists, but also aspire young and old locals to spend more," she said.
The four-brand concept, which was first initiated by the city government at the end of 2017, is expected to further elevate China's eastern metropolis into a growth engine for the domestic economy and an influential player on the global stage.
Shanghai boasts an annual airport passenger traffic of over 100 million people, according to the commerce commission. In 2017, the city's retail industry consolidated 1.18 trillion yuan ($185.53 billion), up 8.1 percent, to maintain its position as China's top shopping destination.
There are more than 3.25 million people working in this particular industry, accounting for almost one quarter of the city's employment.
The apparel and accessories sector, which accounts for about 20 percent of the retail industry, enjoyed the fastest year-on-year growth rate at 18.4 percent.
Old brands, new life
As part of the revitalization project, 50 time-honored brands, most of which have been around for more than half a century, will be selected to undergo upgrades before being reintroduced to domestic shopping spots like tax-free shops, train stations, airports and pop-up stores at prime locations.
Shanghai is now home to 222 time-honored brands, 180 of which are considered to be of national-level importance, the most of all Chinese cities.
The concept of time-honored brands was first proposed in the 1990s by the Ministry of Commerce and was first launched in 2006. While there is no clear definition as to how much history a brand should have in order to carry the title, the ministry noted that a brand must at least reflect Chinese heritage and cultural traditions.
Among the first 50 time-honored brands to be revitalized is Shanghai Yimin No 1 Food Factory, which has capitalized on the initiative to launch its most expensive ice cream ever — an upgrade of its vanilla ice cream brick sold at 8 yuan a piece.
Featuring the use of higher quality milk powder and a packaging featuring a polar bear, the new offering is expected to hit the shelves this summer at thousands of supermarkets and e-commerce portals.
"As a State-owned company and time-honored brand, we have a greater responsibility to keep our products affordable for the mass market," said Li Weitao, assistant director of the Shanghai-originated food factory. "But this has also restricted our investments in R&D and ability to introduce premium products to cater to the demands of the younger population."
Founded in 1913, Yimin No 1 Food Factory is one of the first ice cream makers in China. Originally a conglomerate that produced beverages, canned foods and snacks, the company later made ice cream and sold it under the brand "Bright" during the 1950s.
At its peak, Bright accounted for 80 percent of ice cream sold across the country. By the early 1990s, the company produced 15,000 tons of ice cream every year, 18 times the amount when it was started four decades ago.
But with the aggressive expansion of foreign brands in the late 1990s, the brand fell down the pecking order in the market. Its main consumers today are middle-aged consumers looking for a slice of nostalgia.
In 2017, the company recorded 200 million yuan of sales across its product categories, up 10 percent from the previous year.
However, a low profit margin and a dissipating market share, especially in areas outside Shanghai where people are less attached to the history of the brand, remain big concerns for the company, according to Li.
"Today, with appliances such as air-conditioners and fridges, the ice cream is no longer the go-to item to stay cool. We need to find new ways to attract customers," he said.
Li is hoping that the new polar bear logo for their high-end offering could eventually become a prominent IP like characters from Disney, in turn drawing more young people to try their product which is available in three flavors — vanilla, cheese and strawberry yoghurt.
Staying in tune with market demands
Shanghai Hero Group, a time-honored company that makes pens, has enjoyed slightly better fortunes.
Thanks to the ongoing "techo culture" trend in Japan and China which has people using book journals instead of smart phones to record their daily itineraries, the century-old company's sales of pen and ink have risen by more than 20 percent between 2015 and 2017.
This year, the company introduced 24 ink colors that are packaged in bottles resembling nail polish.
"Young people barely write today. But that doesn't mean they cannot pay for pen and paper," said Li Li, the chairman of the group. "In fact, the more we make and market them into a luxury product, the more desirable they are."
Leon Zhang, a partner at global branding consultancy Prophet, noted that a product's relevance to target consumers is very important, and advised time-honored brands to look at the bigger picture.
"Time-honored brands are often obsessed with their own heritage and overlook the fact that consumers choose a brand because of relevance and not how historical it is. Companies need to view things from the consumer's perspective," said Zhang.
The municipal government expects consumption to contribute up to 60 percent of the city's economic growth annually by 2020.
Apart from revitalizing time-honored brands, there are also plans to build two world-class streets for shopping as well as create another 50 new local brands with strong Shanghai features.
Contact the writer at xujunqian@chinadaily.com.cn