Shenzhen's 'can-do' drive forges new ground
Share - WeChat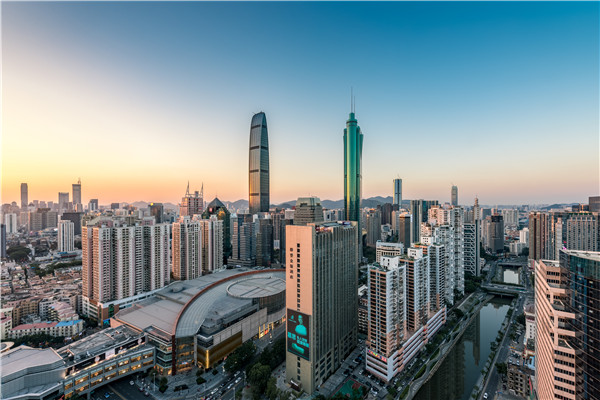 Once a collection of fishing villages, city is now a leader in education reform and artificial intelligence, as Zhang Zhihao reports.
Like the birth of the universe, China's economic miracle, made possible by 40 years of reform and opening-up envisioned by late Chinese leader Deng Xiaoping, also began with a big bang.
On July 8, 1979, a huge explosion blew up mountains in Shekou, a small village in southwestern Shenzhen, Guangdong province. The flattened land and scattered earth, used to fill in the sea, were used to create infrastructure for China's first special economic industrial park.
When Shenzhen took off as one of China's first special economic zones in 1980, its GDP was less than 200 million yuan, or less than 0.2 percent of that in neighboring Hong Kong - one of the world's wealthiest cities.
By 2017, Shenzhen's GDP was more than 10,000 times bigger, reaching 2.2 trillion yuan ($344.6 billion) - nearly the same as Hong Kong's - making it the third-richest Chinese mainland city, behind Shanghai and Beijing, according to the National Bureau of Statistics.
"The success of Shenzhen proves that reform and opening-up is the correct path for building a strong and wealthy nation," said Wang Weizhong, the city's Party chief.
With strong leadership and support from the Communist Party of China Central Committee, the people of Shenzhen were able to carve out a path toward prosperity with forward thinking, innovation, and inclusive, reform-focused policies, he added.
At first, Shenzhen's fortunes were made mostly through labor-intensive manufacturing, producing goods from clothes to electronics for foreign brands. But in the past decade, Shenzhen has become the epicenter of China's technology and finance boom, with a focus on making advanced, high-value products.
The metropolis of more than 12 million people, with an average age of around 33, is now home to more than 11,000 national high-tech enterprises, ranging from biotech to advanced electronics, according to Shenzhen's statistics bureau. Tech giants such as Tencent, Huawei and ZTE have made Shenzhen their headquarters and the city is forging new ground in education and artificial intelligence.
Talent from around the globe is flocking to Shenzhen to take advantage of its well-established manufacturing and transport infrastructure, proximity to Hong Kong's financial services, and better living conditions and air quality than other megacities such as Beijing and Shanghai.
Seeing Shenzhen's current prosperity, it is hard to believe that just a few decades ago it was a collection of desolate fishing villages.