Chengdu woman nurses 4-legged quake survivors
Share - WeChat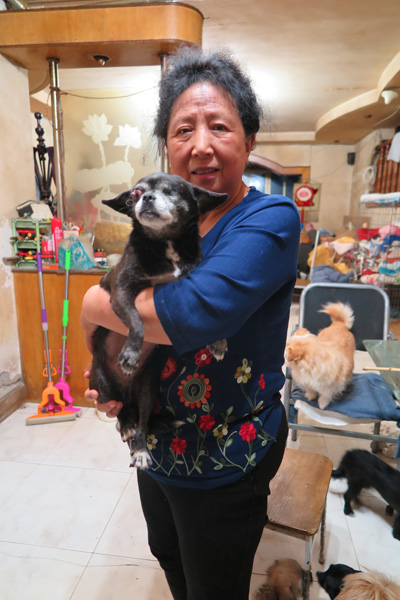 Guided by empathetic heart, she quit business to open dog shelter
When Chen Yunlian and a guest opened the door to her apartment in the suburbs of Chengdu, Sichuan province, a dozen dogs barked, wagged their tails and licked their shoes and trousers.
"It is their way of being friendly," said Chen, who seems much younger than her 70 years.
She gently took out a dog lying below a chair to apply medicine to its eyes.
"She is Jing Ling, which means smart in Sichuan dialect. She lost her eyesight in the Wenchuan earthquake when a building fell on her," Chen said.
Jing Ling has lived at Chen's canine center with some 5,000 other abandoned dogs on a hill in the suburbs of Chengdu. As her right eye became inflamed recently, Chen took her home for intensive care.
"She is more than 10 years old. One year for a dog is about 7 years for a human," Chen said.
After the magnitude-8.0 earthquake in 2008, Chen rescued more than 200 dogs from the rubble. Most of them died or were adopted by dog lovers. Jing Ling is one of around 20 quake survivors.
Chen was an employee at a State-owned thermos plant in Chengdu. In the early 1980s, she quit her job and became wealthy by selling plastic bowls.
Her life took a U-turn in 1996. When she was on her way to sign a business contract, she found a sick, stray dog along the side of the road gazing sadly at her. Feeling empathy, she sought treatment for the dog and took him home.
"Since then, I have just adopted dogs and no longer do business," Chen said.
After the Wenchuan earthquake, she and volunteers rushed to the quake zone because she knew dog owners could not care for their animals, and police would kill strays because of concerns about disease.
"Many dogs hid in the rubble for fear of being killed. It was difficult and dangerous to look for them. Very often the rubble collapsed after we took away a dog," Chen said.
Her love for dogs deepened as she heard stories of their loyalty in the quake zone.
Minutes before the earthquake, a dog in Dujiangyan began biting the trousers of her owner, trying to lead the way out of the building. The family did not understand her strange behavior but complied.
"The dog was the last to leave the building. Falling building materials blinded her. The owner cried and asked me to take care of her because dogs were forbidden in the tent shelters in the quake zone," Chen said.
Chen cared for the dog for two years until the owner got a new house to welcome the savior home.
In another case, in Beichuan county, a dog was seen digging in the rubble after a building buried his owner. But he only managed to pull some clothes out of the rubble. He sat on the clothes and refused to leave.
Chen adopted the dog, which died four years later. Chen has a 7.3-hectare facility to care for the thousands of dogs she has adopted.
The cost is heavy and Chen must raise the funds herself.
"In preparing a meal, the base requires 500 kilograms of rice," she said.
Despite her difficult financial straits, she offers the rescued dogs chicken breast and giblets in addition to rice and dog food.
"They are old and need special care," she said.