10 years after: Wenchuan earthquake photographer remembered
Share - WeChat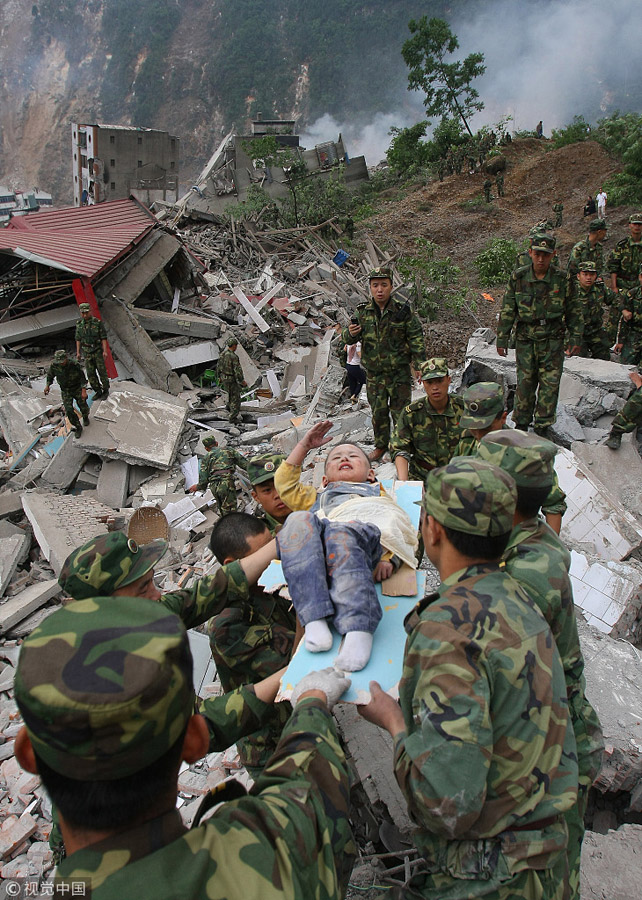 The photo of a small boy carried on a stretcher after his rescue from the wreckage of a devastating earthquake in Southwest China's Sichuan province moved millions and brought tributes to the photographer, Yang Weihua. But Yang wished it wasn't the tragic earthquake that brought him professional tributes. Deeply affected, he wanted to take more photos of the area in the years that followed as he pursued a sense of redemption to ease his mind of the scenes of horror.
Yang worked for the Mianyang Evening News in Sichuan province when the 8.0 magnitude Wenchuan earthquake occurred on the afternoon of May 12, 2008. He drove to Beichuan county town that evening.
When he arrived at Beichuan Middle School, which suffered heavy damage in the earthquake that killed more than 80,000 in the province, at about 11 pm, he clearly heard voices miserably crying for help. Yang dropped his cameras to help save students as old as his son.
He used his hands and wooden sticks to help move concrete blocks, and a kitchen knife to cut the broken legs of people to pull them out. He felt helpless in the face of such a massive natural disaster.
A young female student in the rubble held onto his legs, hoping he could help her. But by the time Yang, who helping another student at that time, turned to assist her, the girl had died.
Yang felt guilty, and when he returned to the site one month later, he bowed three times to honor her memory and cried.
On the morning of May 13, Yang was searching for a high spot to take photos when he heard cries of a boy, later identified as Lang Zheng and saved by soldiers.
Yang spent a whole month there recording the devastation and revisited the area in the following years.
In the six years after the earthquake, until he was diagnosed with liver cancer, Yang used his cameras to record the lives of the survivors and the restoration work in their community. He spent three Spring Festivals with local residents in tents and new homes.
In July 2013, when a major flood hit Beichuan, Yang took photos wearing a waterproof covering to enter the area, despite the danger. His son, Yang Bo, worked with him, but that was the last time they worked together.
Three months later, Yang was diagnosed with liver cancer. Despite two operations, he died in February 2015, at 51 years old.