Green burials promoted to save land and energy
Share - WeChat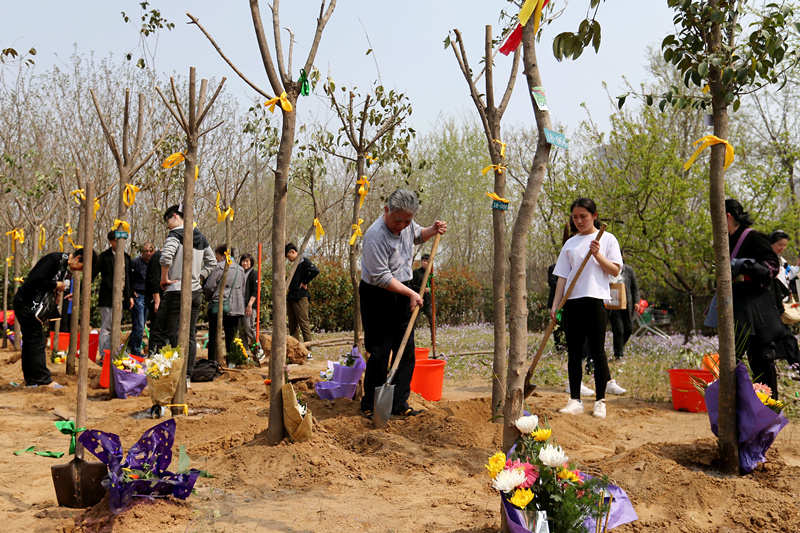 Chen dug a 50-centimeter-deep hole, and then placed a biodegradable casket containing the ashes of her parents-in-law inside. Then, she planted an evergreen privet next to the spot.
There were no monuments or headstones, but each plot was marked with a tree. Later, the names of the dead will be recorded on a list on a monument at the forest entrance.
"My husband and I agree with this eco-friendly funeral. We don't mind whether the names of the deceased are engraved on a tombstone or if their ashes are kept forever - they are always in our hearts. We can join online memorials on the cemetery's website, which will help us to avoid being caught in traffic jams near the cemetery during Qingming (aka the Tomb Sweeping Festival, on which Chinese people pay tribute to their ancestors)," Chen said.
According to the contract she and other participants signed with the local civil affairs bureau, in five years, when the ashes have degraded, the trees will be relocated and the land will be developed for new burials.
In recent years, a growing number of people in China, especially in urban areas, have embraced green funerals as local governments promote eco-friendly burials.
According to a target set in a guideline by the Ministry of Civil Affairs, by 2020, 50 percent of funerals in China every year will be green ceremonies.
The number of people from Beijing opting for burial at sea rose from 1,704 in 2014 to 2,675 last year, the Beijing Funeral Service Center said.
Meanwhile, the provincial funeral association in coastal Zhejiang province said relatives of people who choose sea burial are given 5,000 yuan to 15,000 yuan by the local government,
"In the old days, little concrete or cement was used in China. However, nowadays, these non-biodegradable modern materials are popular as materials for building cemeteries, and our ancestors lie in perpetuity via these 'immortal' monuments and coffins," said Sun, the professor.
Li Shilong, deputy general manager of Beijing Babaoshan Etiquette Co, a State-owned enterprise that provides services for 11 cemeteries, said extracting rock and other materials from quarries to make tombstones and monuments not only wastes energy, but is also a misuse of recyclable land.
"Born into nature, the best choice for the body is to return to the Earth and eventually merge with it. Cement and stones block the way back. Some established customs and practices used in traditional funerals need to be changed to form a more ecological society," he said.
Environmental benefits
However, green funerals are still in their infancy in China because most people still prefer traditional burials in cemeteries.
Data supplied by the Beijing Civil Affairs Bureau show that just 3 percent of people in the capital choose sea burials, while Yang Hu, the funeral director from Zhengzhou, said only a few people per 1,000 in the city opt for tree burials.
Zhu, 81, a retired senior engineer at the railway bureau of Zhengzhou who preferred not to give his full name, took his son's ashes to the tree burial on Saturday. Zhu's son died in 1996 at age 33, and after keeping the ashes at home for more than two decades, he and his two remaining sons decided to return them to nature.