'Chance favors the prepared mind': the landscape photographs of Zeng Yicheng
Share - WeChat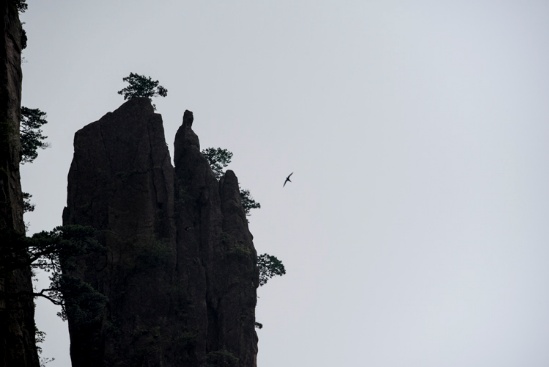 We can see this most clearly in his landscapes, drawing as they do on the centuries-long Chinese tradition of landscape painting, with its deep connection to both the natural world and what Chinese philosophy refers to as xin or "heart-mind." In these bodies of work Zeng discovers and reveals analogues for the depictions of nature in a number of classic works in this genre, to which scenes he attends with the same patience as did those predecessors, and to which he brings the same capacity for detached exaltation.
Typically, in these pictures, Zeng mutes the tonal palette of his film and paper, making his images almost monochromatic, removing the optical excitation and distraction that intense color can generate. Instead of pursuing the illusion of three-dimensionality, as some landscape photographers do, he also deliberately flattens the perspective, subtly but decisively making the space of each vista two-dimensional in his representation of it. This in turn draws attention to those spaces themselves as presences rather than absences, no less noteworthy than the objects that occupy them.
"Chance favors the prepared mind," as the saying goes. Which may explain the appearance of an occasional bird in these pictures, as if to assure us that the hills and mountains in these panoramas, for all their illusionary translucence, have substance. Yet the elimination of all but a few such details in these images emphasizes the outlines of the physical features of these scapes, underscoring their unique individual shapes as time and the elements have sculpted them. Veiled by clouds or seen as silhouetted in subdued light, these dematerialized natural phenomena float weightlessly in their own cosmos, as separate from the surface of the earth as planets in the void. Paradoxically, the results suggest that Zeng has caught and delivered to us fleeting glimpses of the eternal -- and that, despite its apparent tranquility, this timelessness is in a state of flux.
In these projects Zeng also exercises an involvement in his craft comparable to that of his antecedents who worked with ink on paper. This involves not just the act of seeing and the numerous decisions that go into the making of the interpretive negative, but then the actualization of that image's potential in the interpretive print of that negative. For many photographers, the darkroom, with its timelessness, its isolation, its running waters, has served as a meditation chamber. The process of photographic printmaking — the transformation of what the photographer has registered on the film into the final image that will communicate the photographer's vision to the world — emphasizes the print's significance as both a crafted physical object and a vehicle for the photographer's thought and emotion.
Most Popular