Out of place: One artist's story of aboriginal life
Share - WeChat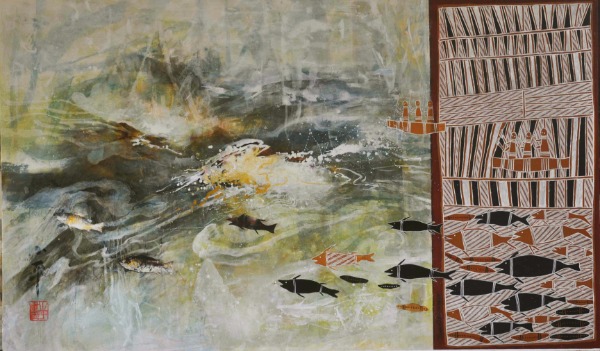 After spending half a lifetime with the indigenous people of Australia, a former art teacher from Anhui is keen to share his journey with society
It's nothing new that an artist might be inspired by indigenous art from other lands considering Pablo Picasso's masterpiece Les Demoiselles d'Avignon (1907), which was said to be influenced by African sculptures. However, it is rare for an artist to spend half a lifetime living with aborigines in the wilds of a foreign land just to learn the essence of their traditional art and use it as the seedbed for their own work.
And Zhou Xiaoping, 60, a former art teacher from Hefei, Anhui province, did just that.
He observed and experienced aboriginal life for nearly 30 years after becoming captivated by aboriginal rock paintings during his first trip to Australia in 1988.
"I came across some aborigines and their artworks in Alice Springs, a town in central Australia," recalls Zhou. "I was extremely curious about these people who looked so different from my stereotypical image of Australians and seemed to be out of place in the midst of the so-called mainstream Australian society."
Most Popular