Illegal financial risks being tackled
Share - WeChat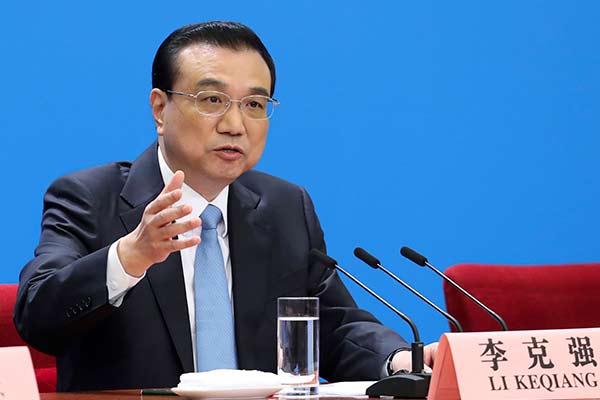 To prevent risks from spreading in the financial system, China will toughen its crackdown on illegal fundraising and irregular financial activities that dodge regulations, Premier Li Keqiang said on Tuesday.
Li described illegal and risky practices by some financial institutions as "blisters". He struck a resolute note that they need to be cleaned up to forestall financial risks.
"A blister needs to be pricked when necessary," Li said at a news conference after the conclusion of the first session of 13th National People's Congress. "Otherwise, a small problem may spread, and it will involve moral hazard."
The premier was responding to a question about the latest measures taken by the country's financial regulators against some insurance companies and financial institutions and whether the chance of loss associated with these companies would set off systemic financial risks.
Li said China is capable of preventing systemic financial risks, given the country's sound and stable economic growth.
The capital adequacy ratio and provision coverage ratio of the Chinese banking sector are higher than required by international standards, Li said. Banks must also put aside reserves worth about 15 percent of total deposits, meaning the banking sector has more than 20 trillion yuan ($3.16 trillion) as reserves, the premier said.
Meanwhile, the central government's robust fiscal revenue growth will offer it sufficient tools to stem economic growth and address risks from domestic and international markets, the premier said.
The central government saw higher-than-expected revenue last year, Li said, adding there was double-digit revenue growth in the first two months of this year.
"We are confident we will achieve major growth targets this year and are upbeat about future development," the premier said.
In addition, the government will continue to lower its fiscal deficit to GDP ratio. But it does not mean any change in the country's proactive fiscal policy stance, as the government is expected to spend more this year than last year, Li said.
The move by the government to lower deficit targets reflected the country's solid growth, which has supported a steady increase in total revenue, said Martin Petch, a senior credit officer at Moody's Investors Service.
"The overall fiscal impulse remains sizable, supporting GDP growth and leading to a gradual increase in government debt. Key fiscal measures include reducing fees and taxes for companies and individuals and increased spending on social welfare, environmental protection and poverty alleviation," Petch said.
To pave the way for further economic growth, Li also said on Tuesday that China will push forward its protection on property rights of all business entities.
"Businesses under all types of ownership, whether they are State-owned or private enterprises, have made important contributions to China's economic growth in the past decades," Li said. The private sector has contributed nearly half the country's tax income and 90 percent of new urban employment, Li said.
The premier said that the country will instill confidence in all property owners, including investors and companies under all types of ownership, by reassuring them of their legitimate property rights.
"Property rights are the cornerstone of a socialist market economy. Protecting property rights is protecting productive forces," Li said.
Intellectual property also will be better protected, Li said in the news conference.
"The private sector in the future will become more market-oriented, regulated and internationalized with growing competitiveness in the world," said Liu Xiangdong, researcher at China Center for International Economic Exchanges.