NPC to check on enforcement of antipollution laws it passes
Share - WeChat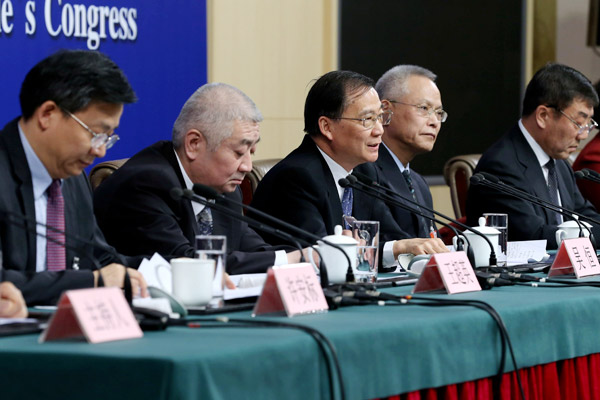 The top legislature plans to conduct an inspection this year on how the new Air Pollution Prevention and Control Law is being implemented, in a move to tighten supervision over environmental protection.
"We'll also invite officials of environment-related authorities under the State Council to respond to concerns and questions from national legislators regarding the law," said Yuan Si, vice-chairman of the Environment Protection and Resources Conservation Committee of the 12th National People's Congress.
He spoke at a news conference on Monday on the sidelines of the ongoing two sessions.
"In the past five years, we've made greater efforts in legislation and supervision aimed at protecting the environment and ecology, especially in the Beijing-Tianjin-Hebei region, which is frequently hit by smog," he said.
"We've found some problems in related inspections and pushed for rectifications," he said, adding that the top legislature will strengthen efforts to better supervise environmental protection by conducting more law enforcement inspections and closely following the rectification progress.
Since 2013, the NPC Standing Committee has produced or revised about 20 environment-related laws and bills, including the Environmental Protection Law and the Air Pollution Prevention and Control Law.
A draft law on soil pollution control and prevention, and a revision to the law against waste pollution are also high on the NPC's legislative agenda this year.
Lyu Caixia, a member of the 12th NPC's Environment Protection and Resources Conservation Committee, said that the legislature is studying improvement of resource utilization through use of legislation in response to a question on how to fight pollution caused by trash.
"While we're shopping and ordering food online, trash is also building up," she said at the news conference on Monday. "Lots of the trash not only pollutes our air, rivers and soil, but also harms people's health."
The central leadership has highlighted the importance of garbage classification and resource recycling, "which compels us to pay more attention to the issue and to fix the problem with legislation", she added.
On the subject of school bullying, Wang Shengming, vice-chairman of the 12th NPC's Internal and Judicial Affairs Committee, said that it will propose to amend the Juvenile Protection Law and the Law on the Prevention of Juvenile Delinquency to find solutions to the issue.
School bullying is an issue that has captured the attention of the top legislature, related departments under the State Council and also the public, he said. "When everyone cares about an issue, it will be solved soon," he added.