Sichuan secures 10b yuan for huge panda park
Share - WeChat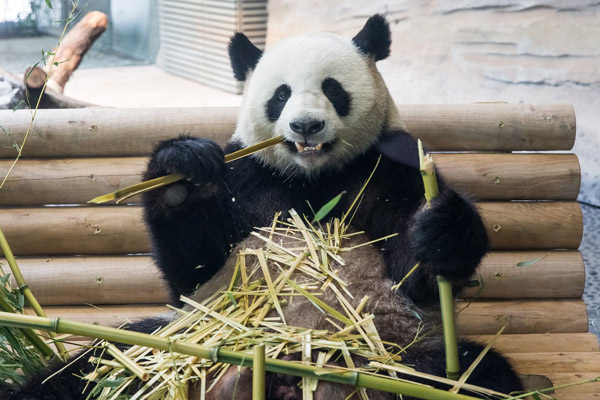 Construction of the planned Giant Panda National Park took a step forward as the Sichuan provincial government has secured funding of at least 10 billion yuan ($1.58 billion) in the next five years.
According to an agreement signed on Tuesday by multiple parties, including the Sichuan provincial branch of the Bank of China and the Sichuan provincial Department of Forestry, the bank is in charge of securing the financing by 2023 for the park's construction.
The agreement, signed at the Chengdu Research Base of Giant Panda Breeding, is a framework aimed at poverty alleviation among residents in the park and infrastructure improvements there, said Zheng Weichao, an official of the Sichuan leading group in charge of planning for the park.
Although details of the agreement are yet to be worked out, he said it will be conducive to panda conservation. Local residents will have a stronger sense of protecting endangered animal species only if they are able to lead a better life, he said.
Planning for the Giant Panda National Park began on Jan 31, 2017, when the general offices of the Communist Party of China Central Committee and State Council issued a circular on the project.
The park will cover 27,134 square kilometers-three times the size of Yellowstone National Park in the United States. It is expected to help wild pandas isolated on six mountains across Sichuan, Shaanxi and Gansu provinces to breed, strengthening their gene pool.
More than 80 percent of the world's wild pandas live in Sichuan, with the rest in Shaanxi and Gansu.
The Sichuan part of the park covers 19 cities, districts and counties with a population of over 170,000 people. Many live in less-developed mountainous areas. They would be helped to overcome poverty through education and sales of products the areas are known for.