Ma shares thoughts on 'Digital China'
Share - WeChat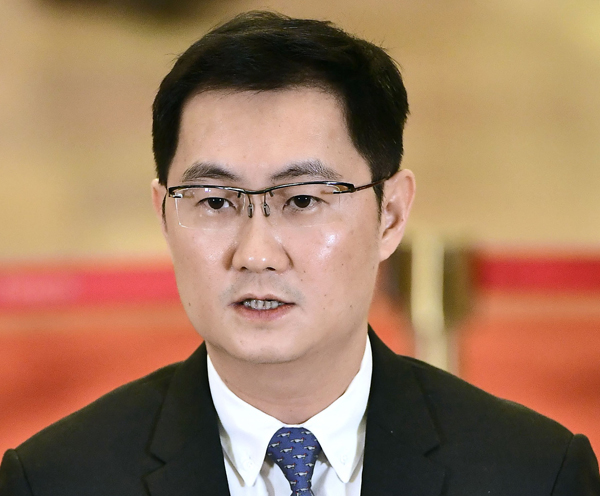 Technological innovation is expected to further spur China's social and economic development, said Pony Ma Huateng, a deputy to the 13th National People's Congress, on Monday.
"China's economy has achieved high-quality growth and the country's internet and technology development has gained momentum thanks to reform and opening-up," Ma, who also chairs internet giant Tencent Holdings Ltd, said ahead of the opening meeting of the first session of the 13th NPC.
In his suggestions to the top legislature, Ma said the central authorities should deepen the push in five key areas from industry to education as part of a broader drive toward building a "Digital China".
Daily lives will become more efficient if the likes of big data, cloud computing and artificial intelligence are better incorporated into industrial, medical, financial, cultural and educational endeavors, he noted.
"China's Internet Plus strategy is an approach while the digital economy is the result, both of which serve the goal of 'building the country into a Digital China' and an internet power," he said.
According to Ma, the industrial internet should be given full play in revamping and reinvigorating old-school manufacturing. Personalized orders can be achieved, for example, by leveraging big data that tracks, predicts and meets unique customer demands.
The suggestions echoed President Xi Jinping's call for more efforts to promote further integration of the internet, big data, and artificial intelligence with the real economy.
On the medical front, algorithms and robotics have already made a mark in China by reading CT and MRI scans to screen early-stage cancer symptoms. Ma said AI can be further applied to assist doctors in their daily diagnosis, which could spell a boon, notably to those in far-flung areas where medical resources are scarce.
To rein in debt evasion and control financial-sector leverage, Ma urged the better use of the troves of data generated online for precise risk-assessment in the booming internet finance sector.
Technology can also play a bigger role in the promotion of cultural and educational activities. Interactive games that use augmented reality technology to allow for an immersive experience can be used to support efforts to preserve cultural heritage and raise public awareness.
The digital economy accounts for roughly 30 percent of China's GDP and claims a large share of the country's newly-added economic output, according to a report published last year by a research institute under the Ministry of Industry and Information Technology.
By teaming up with local governments, tech majors such as Tencent, Alibaba and Baidu have pulled in resources to help streamline civic services and relieve traffic congestion using data analytics.
China is already more digitized than many observers appreciate and has the potential to set the world's digital frontier in the coming decades, according to global consultancy McKinsey, which attributed such success to the government's active role in building world-class infrastructure and shaping healthy digital development through regulation and enforcement.