After-school tutor courses scrutinized
Share - WeChat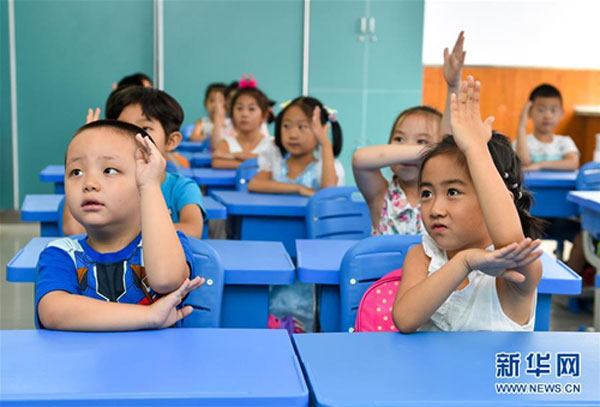 Blacklist to be created to identify institutions with serious problems
China will establish a blacklist of unsafe or poorly operated after-school training institutions for primary and secondary students by the end of June next year, as part of its oversight of the rapidly expanding industry, the Ministry of Education said on Monday.
The blacklist, which will be disclosed to the public, will name institutions that have safety hazards, lack permits or have engaged in misconduct.
Local education authorities will also publish a list of training agencies that are devoid of problems, according to a statement on the ministry's official website.
"Teachers who lure or coerce students to attend extra training will be dealt with seriously or even stripped of their teaching credentials," the statement said.
The institutions are forbidden from engaging in training activities beyond the teaching syllabus. The idea is to reduce the burden on primary and secondary school students.
The after-school institutions should also submit their course curricula, enrollment targets and class hours to local education authorities for approval, the statement said.
They are not allowed to organize graded examinations or conduct competitions for primary and secondary school students, and the training results from these institutions cannot be used as criteria for future enrollment in primary and middle schools, it said.
As Chinese parents often spare no effort or expense to promote their children's education, a booming market has arisen for after-school training, with all kinds of institutions established to give children a head-start.
More than 137 million primary and secondary school students attended such institutions in 2016, with market value exceeding 800 billion yuan ($126.8 billion), according to the Chinese Society of Education.
Xiong Bingqi, deputy director of the 21st Century Education Research Institute in Beijing, said that unlike other schools, after-school training institutions are privately owned enterprises, so they are profit-driven by nature.
"Currently, there is lack of supervision of training institutions with legal permits, as different local authorities tend to pass the buck. And there is little supervision of illegal ones," Xiong said.
Therefore, the supervision and standardization of institutions require efforts from all sides, including education authorities, schools, teachers and parents, to make them a conducive supplement to regular school education, rather than a disruptive force in the system, he said.
"Parents should realize that school education is more important and helpful in boosting children's overall performance, and resist rushing to send their children to these institutions just because other people do," Xiong said.
China should continue to raise the salaries of teachers so that they are not induced to work part-time at after-school institutions, he added.