Serving up a taste of China
Share - WeChat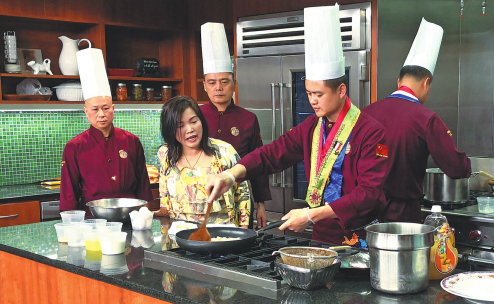 A delegation of Cantonese chefs is visiting three countries as part of a plan to promote Chinese culinary culture abroad.
Lin Chaodai, who is blindfolded, is cutting a potato slice perched on a special "chopping board" - a balloon resting on two nails pointing upward.
He finishes slicing it successfully without bursting the balloon, but that's not the end of the show.
He then effortlessly proceeds to continue to thread six potato slices together on a single needle.
The Cantonese cuisine master chef is displaying his knife skills on several occasions over the Spring Festival period, as one of the six chefs forming a delegation taking traditional New Year's cuisine to overseas Chinese in Panama, the United States and Mexico.
The tour, organized by the Overseas Chinese Affairs Office of the State Council, which is now in its third consecutive year, is continuing its plan to revive Chinese culinary culture around the globe.
This year, the delegation departed from Guangzhou on Feb 16, the first day of Chinese New Year. During their scheduled 16-day visit, the chefs will present Cantonese cooking techniques to Chinese food practitioners in various destinations across the three countries.
All six chefs hail from Shunde in Foshan, Guangdong province. Shunde, which joined the UNESCO Creative Cities Network as a city of gastronomy in 2014, is one of the cradles of Cantonese cuisine.
According to Lin, the chefs discussed what they would teach and cook for the overseas Chinese delegates in the US before their departure. "We wanted to use local ingredients and teach them some dishes that would not be too complicated to cook," Lin says.
Their first stop was Panama, which established diplomatic relations with China in June 2017.
Most Popular