Woman in SWAT suit pleased to save lives
Share - WeChat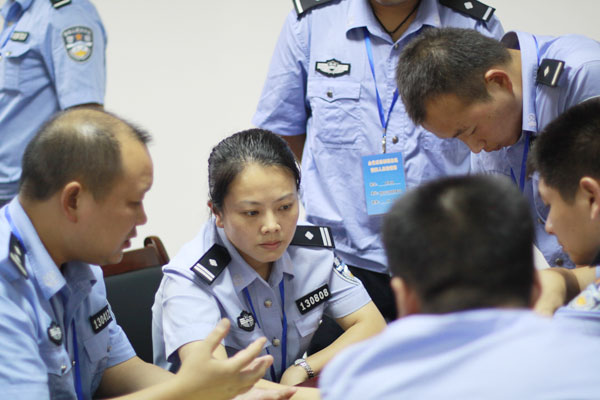 "Like the bamboo tree, bend but do not break."
This is how Li Bei, 39, a police officer in Loudi, Hunan province, describes herself.
During her 18 years on the front line of crime-fighting, Li has captured drug smugglers on the China-Myanmar border, arrested a murderer of 13 victims and rescued a bleeding criminal with AIDS at the risk of infecting herself.
It's hard to imagine Li, who has a petite figure, fair skin and a dimpled grin, serving as a SWAT officer.
In August 2010, a woman was about to kill herself by jumping from a 13-story building in downtown Loudi. After about an hour of discussions, the woman agreed that Li could approach her alone and hand her a pen and paper to write her address.
Li sat beside her on the edge of the 50-meter-high roof, where they talked so she could gain the woman's trust.
"I glanced down. It was crowded with people. I was scared at that time. I did not want to lose my life," Li recalled. She returned to a safe area after failing to convince the woman she should accept help.
The standstill lasted three hours, and Li decided to risk it again and approached the woman.
When Li tried to lead the woman to a safe area, she ran toward the ledge. But Li held the woman's waist and brought her to the ground.
"Life and death are just a moment apart," said Li, whose parents were police officers. She always remembers her father's words: "No matter how time changes, responsible and practical people are always needed."
In 1999, when the killer of 13 people escaped to Loudi, Li immediately went to the train station with her colleagues and captured the murderer-she was the only female officer.
In 2000, Li and her colleagues took up smoking and drinking to better disguise themselves as drug buyers in a trafficking case.
After less than half a month, they detained 13 traffickers on the China-Myanmar border, which destroyed the drug chain between Loudi, Yunnan province, and Myanmar.
Li was a delegate to 19th National Congress of the Communist Party of China. Since returning from Beijing, she has devoted herself to conveying the spirit of the congress to her fellow Party members in Loudi.
She said she was improving herself and gaining new knowledge as she delivered speeches to others. "I feel touched when all the Party members applaud for me," she said.