Bill Gates 'honored' to work with Chinese counterparts
Share - WeChat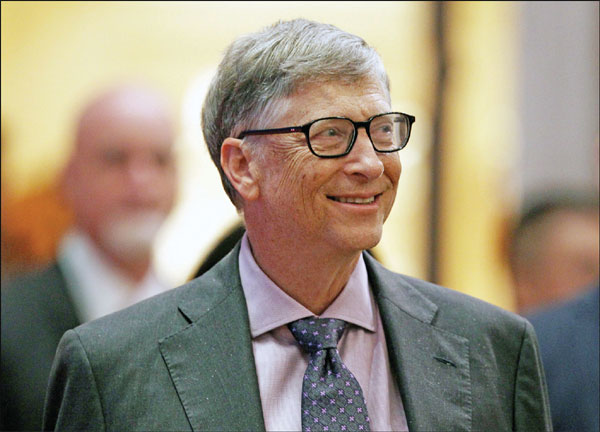 Multibillionaire suggests more health improvement efforts in B&R Initiative
Microsoft founder Bill Gates said it's a great honor for him to be elected into the Chinese Academy of Engineering, and he would take advantage of the opportunity to communicate with Chinese academicians to improve the world.
The 63-year-old US multibillionaire and philanthropist made the remarks during an online interview with Chinese media earlier this month before Bill and his wife Melinda on Tuesday released their 2018 annual letter, titled "The 10 Toughest Questions We Get".
The questions range from education to their values, the African population, Trump's foreign aid policy and climate change.
In December, Gates became a foreign member of China's top scientific think tank. He is chairman of TerraPower, a nuclear reactor design company he cofounded in 2008.
To help cut back on greenhouse gases, the company has been working with China on fourth-generation nuclear power technology, which proponents advertise as being safer and cleaner.
In October, TerraPower signed a joint venture with China National Nuclear Corporation to work together to complete the Traveling Wave Reactor design and commercialize clean nuclear technology, a new option for civilian nuclear energy designed to better address safety, the environment and cost concerns.
"It is a private sector thing. The market can work because the market for energy is very large," he said during the interview.
He also recognized that poor farmers are the most vulnerable to climate change. As the energy innovation initiative cannot work quickly enough to help them out, "the Bill and Melinda Gates Foundation decides to help educate farmers, to help them with soil mapping, better seeds, fertilizing-the methods that can have instant, dramatic impact on the poor", he added.
Regarding the fight against disease and poverty worldwide, Gates also reassured his foundation's partnership with China in areas of research and development for new global health discoveries.
The foundation now has an institute in Beijing, working on developing new drugs to cure tuberculosis, one of the top 10 causes of death worldwide, he said.
There are huge opportunities here because of China's growing scientific strength, in both basic research and at the investment level, Gates added.
Notably, he suggested the Chinese government include some health improvement efforts in the Belt and Road Initiative.
"China is definitely listening to what other countries' needs are," he said. "We're hopeful that China will engage in malaria elimination in a number of countries, and if that could fit into the uplifting message around the Belt and Road, and China chose to do that, that would be one way to go about it.
"Helping poor farmers have more output or saving children's lives are based on universal agreement and China also has a lot to bring to those causes."
To improve China's contribution to global health, he urged for improved drug regulations in the country to authorize and commercialize medical innovations more efficiently.
"The benefits of improving regulations will be very dramatic both domestically and internationally, both in commercial and philanthropic sectors," he said.
Currently, medical innovations happening in China need to go through complex and longer inspections, he said.
Wang Xiaoyu contributed to this story.