Turkey to celebrate the 'Year of Troy'
Share - WeChat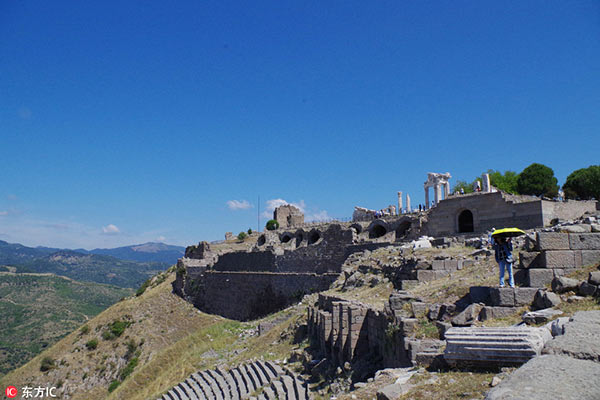 Turkey's tourism industry has launched impressive plans to rely on the rising popularity of the ancient and enigmatic city of Troy to lure more tourists. In January, the Turkish government declared 2018 the "Year of Troy" in honor of the 20th anniversary of the ancient city's recognition as a UNESCO World Heritage site.
The name Troy refers both to a place in legend and a real-life archaeological site.
In legend, Troy is a city that was besieged for 10 years and eventually conquered by a Greek army led by King Agamemnon, while as a real ancient city located on the northwestern coast of Turkey, Troy has been widely identified as its famous namesake in legend since antiquity.
The new Troia Museum in Turkey's Canakkale province is expected to draw 1 million tourists in its inaugural year.
The authorities have invited several Hollywood celebrities to promote the place dating back to classical antiquity as Asia Minor through an international meeting.
The 10,000-square-meter museum will showcase archaeological findings of the ancient city, including 24 gold pieces known as the treasures of Helen of Troy, which were returned to Turkey from the United States after 125 years.
Hollywood actors starring in the 2004 blockbuster Troy, such as Brad Pitt, Diane Kruger, Eric Bana and Orlando Bloom, have been invited to visit the museum by Turkey's Tourism and Culture Ministry. The ministry has planned multiple events to mark the "Year of Troy", including symposiums and performances.
The International Troy Games are expected to draw athletes from around the world to compete in multiple events at the site before domestic and foreign spectators.
The ancient city of Troy was declared a World Cultural Heritage site by UNESCO in 1998.
It is the setting of the Greek Trojan War, described in Homer's epic poems The Iliad and The Odyssey.
In 1915, Ottoman troops defeated the British and French intruders in the battle of Gallipoli during World War I. Both battle sites in Turkey's Canakkale, located around the Dardanelles Straits, draw hundreds of thousands of visitors each year, especially descendants of the ANZAC corps, the Australians and New Zealanders who served and died in the battle.
Turkey's tourism revenues jumped nearly 20 percent to $26 billion in 2017, boosted by a fivefold surge in the number of Russian tourists, data showed in January.
"There is a 70 percent increase in the number of bookings from foreign travel agencies for this year. We expect a record in numbers in 2018," Tourism Minister Numan Kurtulmus says.
China has declared 2018 as Turkey Tourism Year, a move expected to boost ties between the two countries.