World applauds ivory ban, but experts say illegal trade may rise
Share - WeChat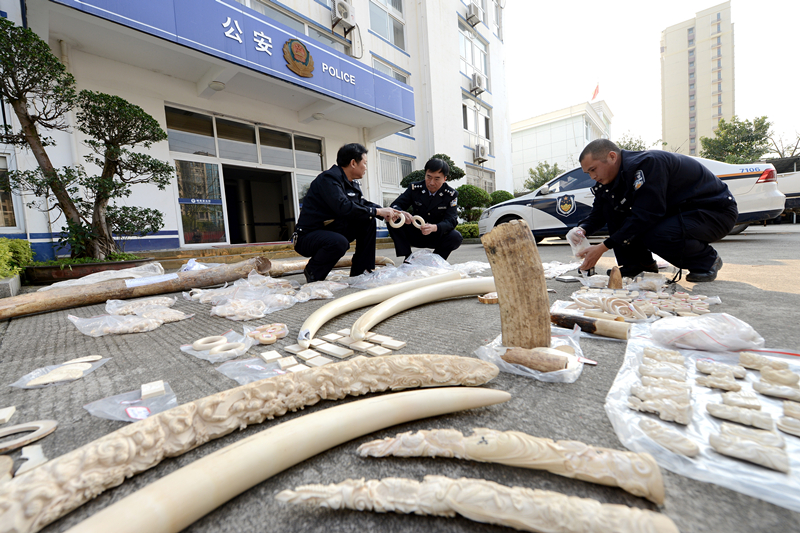 Retailers could face pressure to reduce stockpiles, as Yang Wanli reports from Beijing with Sylvia Chang in Hong Kong.
China's ban on the sale and processing of ivory, which came into force on Dec 31, has already begun to have an effect on businesses in the sector.
At the end of last year, the Guangzhou Daxin Ivory Carving Factory in Guangdong province employed 30 ivory carvers, but 18 were made redundant earlier this month, leaving just 12 full-time employees.
The factory is one of about 150 ivory processing and retailing facilities in the Chinese mainland that were ordered to cease operations by the end of last year.
The remaining members of staff have no work to do, but they will stay on the payroll, earning a fraction of their previous wage, until other jobs can be found for them.
The international community has hailed the ban as a move that could help to eradicate poaching and reverse the decline in the number of African elephants in the wild, estimated to be between 450,000 and 700,000. The tusks of African elephants are longer and more workable than those of their Asian counterparts, and therefore more valuable.
However, despite the ban, problems and challenges still exist.
Family death knell
Weng Zhanxuan, a sixth-generation ivory carver in Guangzhou, is one of the few remaining "employees" at the Guangzhou Daxin Ivory Carving Factory, but he is no longer allowed to use his skills.
Weng's family has been making ivory balls for about 200 years.
The balls, which feature several rotatable internal layers, are carved from a single piece of ivory, and both Weng's father and grandfather are revered as national arts and crafts masters.