Homework burden eases for Chinese students
Share - WeChat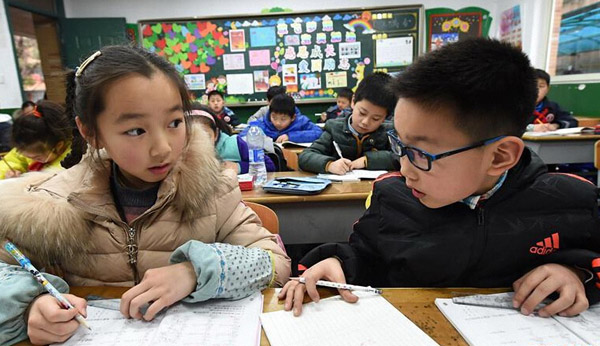 The amount of time primary and middle school students in China spent on homework fell from 3.03 hours a day in 2016 to 2.87 hours in 2017, but it is still far higher than in other countries, according to a research report.
Experts and parents have called for reasonable amounts of homework and an evaluation system for students based on more than just examinations, while teachers advise parents not to focus on competition.
The report by afanti100.com, a Chinese online education service provider, is based on a survey of 446,836 students in 31 provincial areas, with 56.7 percent from primary schools, 38.6 percent from middle schools, and 8.7 percent from high schools.
The research indicated that it took primary and middle school students less time to finish their homework in 2017 than in 2016. The average time per day decreased to 2.87 hours-2.64 hours for primary school students and 2.94 hours for high school students.
Although the average time fell, it was still more than other countries-twice the global average, in fact.
At the end of 2017, the Ministry of Education introduced a standard for managing schools under the compulsory education period. It demanded that families and schools should cooperate to guarantee 10 hours of sleep for primary students and nine hours of sleep for middle school students.
However, the online education platform's report showed that more than 80 percent of students go to bed later than 10 pm every day.
In 2013, the Ministry of Education also issued a regulation on primary school pupils' homework, saying that there should be no written homework for Grade 1 and 2 students, and less than an hour of written homework for other grades. But the ministry is yet to introduce any rules on homework for middle school students.
Liu Xuchen, 13, is studying at Hefei Shouchun Middle School, Anhui province, and will take the high school entrance examination this summer. Liu said most of her classmates spend nearly four hours on homework every day.
"I feel tired every evening and my homework is for seven subjects, all of which will be tested in the exam," Liu said.
Those seven subjects are Chinese, math, English, physics, chemistry, political education and history. But not all the subjects carry the same weight in the examination. Chinese, math and English have the highest scores of 150 points while the others range from 60 to 90.
Another problem Liu faces is the difficulty of her homework. She said a hard math question could take her nearly 30 minutes.
According to the report, 85 percent of students experience negative emotions when doing their homework, including getting upset and losing their temper. And 76 percent of parents argue with their children when helping them with their homework.
"I think teachers should create a balance between the number of hard and easy questions," Liu said.
Unlike Liu's school in Anhui, schools in other areas assign less homework.
Yuan Hairong is a teacher with almost 20 years of experience at the Experimental High School Attached to Beijing Normal University."Most of our students who will take the high school entrance exam this year spend two and a half hours at most on homework every day," he said.
Unlike Anhui, Beijing's exam only tests five subjects-political education and history are not included.
"But many parents send their children to tutorial classes for those five subjects, which also occupies a lot of time," Yuan added. "Many parents don't want to see their children left behind, so they arrange extra classes and homework."
Chu Zhaohui, a researcher at the National Institute of Education Sciences, said it's the single evaluation system for students that leads to the homework burden. "The schools only assess students' development using scores and ranks.
"The government and society must try to enrich the assessment system, which would help students find advantages in different ways rather than focusing only on passing examinations."
Zhang Haoqiang, principal of the Hangzhou Shengli Experimental School in Zhejiang province, said: "We should focus on reducing redundant homework. After all, homework is a key method to consolidate knowledge.
"We cannot ease students' homework burden by simply reducing the quantity, but by improving the homework quality so that they can achieve more through doing less homework."