Tibet to build on recent successes to raise residents' living standards
The autonomous region relies on localized policies and environmental protection to boost wages, as Cheng Si and Daqiong report.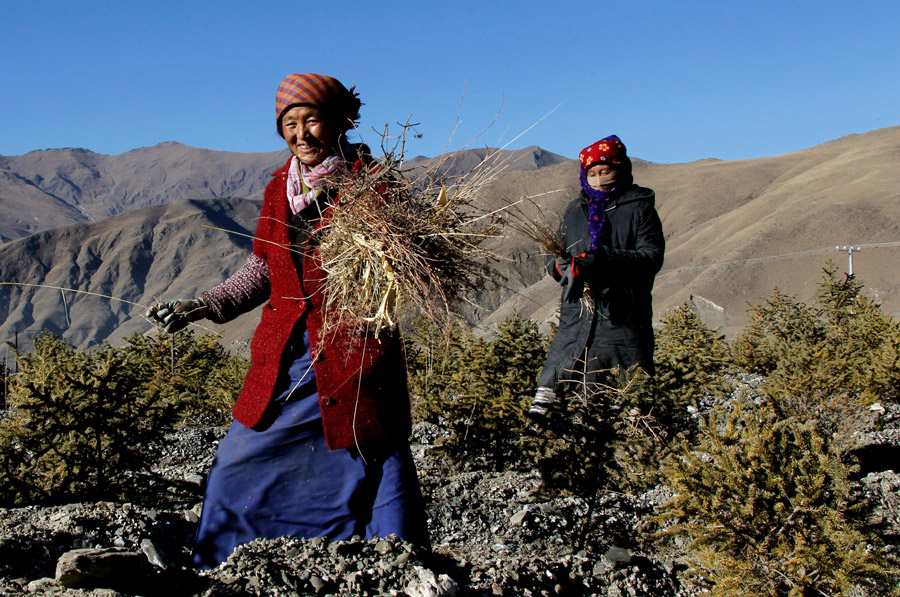 This year, more than 140,000 people will be lifted out of poverty in 1,705 villages in 25 districts and counties in the Tibet autonomous region, official projections suggest.
Meanwhile, a work report released by the Tibet Leading Group Office of Poverty Alleviation in November said relocation and resettlement programs in the region will be completed by the end of the year.
The achievements will build on the region's success in the past two years, such as the eradication of poverty in five key areas: Kharub, Chamdo city; Chengguan district, Lhasa; Dragyib, Nyingchi; Nedong, Lhokha; and Dromo, Xigaze.
They were among 26 places nationwide where incomes surpassed the official poverty line of 3,000 yuan ($466) last year, according to the State Council Leading Group Office of Poverty Alleviation and Development.
"We have won our first battle against poverty thanks to government assistance," said Norbu Dondrub, vice-chairman of the Tibet autonomous region.
"The success we have achieved is the result of preferential policies released by the Party and the unprecedented efforts made by local people."
Resources
As one of China's most impoverished areas, Tibet has been the focus of recent support from the central government.
Last year, 4.29 billion yuan was provided to help more than 1,300 poverty alleviation projects.
That saw the amount invested in the region by the central and regional governments rise by 1.6 percent year-on-year to 11 billion yuan, while loans issued to individuals and companies involved in poverty alleviation projects reached 110 billion yuan.
Meanwhile, the local government provided nearly 40 percent of the 6.75 million yuan granted to Xuecun village, Nedong, to fund construction of a nursery base in 2106.
The base was completed in June, and more than 53,000 square meters were sown with pears, peaches and herbs, plus white poplar trees which will eventually be sold as lumber.
"Before I came to the base, I raised sheep and yaks. My four family members and I used to earn about 10,000 yuan a year, but now I make 100 yuan a day and receive a free daily meal, too," said Tsering Tsamgyi, one of 72 impoverished local residents employed at the base.
"My task is to remove stones and weeds around the saplings," the 53-year-old said. "I work from 9 am to 7 pm. The work is easier than raising livestock and I earn much more than before."
Sonam Tsering, manager of the base, said the facility is expected to earn 3.26 billion yuan this year, and 60 percent of the profit will be given to villagers who are officially classified as impoverished, as part of the government's financial support program.
Zeng Youzhi, one of two deputy directors of the Tibet Leading Group Office of Poverty Alleviation, said: "Developing industries with local characteristics is the key to Tibet's poverty alleviation work. Impoverished people in destitute areas are encouraged to work in industries that provide stable incomes to ensure that poverty alleviation work is sustainable."