Consumption to spur shares
Share - WeChat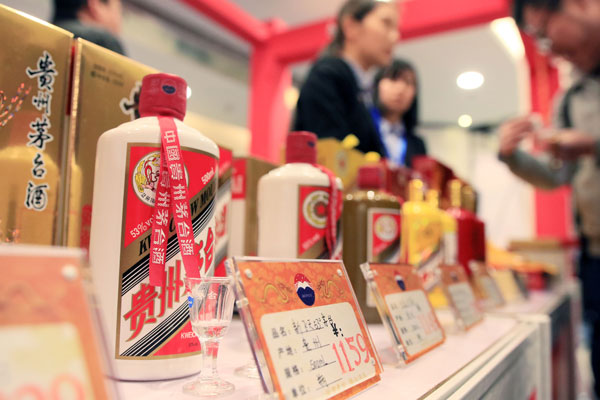 Market fancies sectors like tourism, insurance, lifestyle products and services this year
Shares of companies related to consumption, particularly high-quality products and services, will continue to offer investment opportunities this year, analysts said.
Such companies will benefit from China's consumption upgrade. Chinese consumers are increasingly demanding high-quality goods and services, they said.
With rising disposable income, consumers are more sophisticated now than before, and are willing to spend more on aspirational or lifestyle pursuits like expensive food, branded clothes and accessories, nifty gadgets, top-end entertainment and experiential tourism.
So, sales and profits of high-end liquor makers, insurers and online retail companies may rise this year, which is likely to boost market sentiment toward their shares.
Consumption is becoming a strong driver of China's economic growth. This will brighten earnings prospects of consumer goods companies and related service providers, said Zhang Xu, an analyst at Shanxi Securities Co Ltd.
Stock prices are already reflecting such a trend as investors continue to bet big on consumption-related companies.
Indexes that track listed companies in sectors like liquor, food, electronic appliances and insurance were among the best performers in China's A-share market over the past six months, according to financial data provider Wind Info.
For instance, Chinese liquor producers and brewers have seen their shares surge in the wake of a rise in their product prices.
Kweichow Moutai Co Ltd, China's signature high-end spirit maker, saw its shares reach a record 782.5 yuan ($120) as of Tuesday, up by more than 130 percent over the past year.
"Consumption is becoming one of the main pillars of China's economy," Zhang said, adding that sectors such as online retail, entertainment and manufacturers of premium consumer goods will benefit from the trend.
China's top policymakers have stated that the country will focus on high-quality growth rather than the absolute growth rate number at the annual, tone-setting Central Economic Work Conference held in December.
Liang Hong, chief economist at China International Capital Corp, a leading investment firm, expressed similar optimism about China's domestic demand and growth potential in consumption.
"Consumption growth will likely pick up on the back of rising disposable income growth, especially that of lower-income households that have higher consumption propensity," Liang said.
China's total retail sales of consumer goods reached 29.7 trillion yuan in the first 10 months of last year, up by 10.3 percent year-on-year, according to official data. Consumption expenditure during that period contributed about 64.5 percent of economic growth.
Michael Tong, chief China strategist at Deutsche Bank, recommend investors to focus on investment themes related to environment, advanced manufacturing, premium consumption and reform of State-owned enterprises.
"Although GDP growth is likely to moderate, the economy should demonstrate resilience and deliver better quality growth," Tong said in a research note.
A recent report by the International Finance Institute, which operates under the aegis of Bank of China, said that income growth, consumption upgrading and pension reform will underpin consumption despite slowdown in spending on automobiles and housing.
The rapid development of consumer finance will also contribute to stable consumption growth in 2018, it said.
Analysts said luxury goods producers such as jewelry retailers are well placed to benefit from China's upgraded consumption.
"The core of our investment thesis is that more consumers outside major cities can afford more luxury products, creating sustainable growth for jewelry retailers," said Tony Li, an analyst at China Galaxy Intentional.
"Our stock pick for the sector rests on the critical assumption that China's luxury market is recovering healthily, as consumption upgrade demand from the middle class supports sustainable growth," Li said.