Stock surge lifts Moutai valuation
Share - WeChat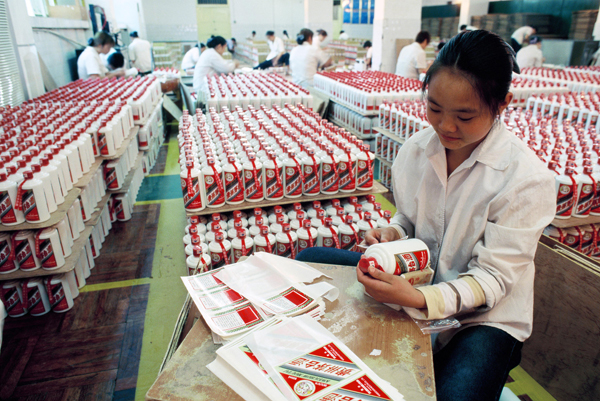 Chinese liquor-maker anticipates huge rise in 2018 revenue on higher sales
Kweichow Moutai Co Ltd, China's signature high-end spirit maker, is becoming "white gold" for investors after it became one of the most valuable stocks in the A-share market, with a market capitalization of 987 billion yuan ($151 billion) after its shares soared on Wednesday.
The company also topped LVMH Moet Hennessy Louis Vuitton SE in market capitalization as the most valuable stock on Bloomberg Intelligence's Global Luxury Goods Top Peers Index.
Moutai shares closed at 785.71 yuan per share on Wednesday, nearly double the 345 yuan level seen in January 2017. In the A-share market it is now ranked the eighth-largest company by capitalization, ahead of resources giant Sinopec, insurer China Life and commercial lender China Merchants Bank.
Analysts said that the growth in valuation has been supported by fundamentals, and if demand for the alcohol beverage continues to grow, it could rise further in the next few months due to higher demand during the Lunar New Year festival.
Moutai said in its 2017 annual result forecast that it expects full-year revenue to grow 50 percent year-on-year to 60 billion yuan and net profit by 58 percent.
"We expect the company's revenue and profitability to grow in 2018 on the back of its strategy to raise retail prices, strengthen online retail channels and increase supplies during peak seasons", said a research report from China Merchants Securities.
According to the distiller's latest retail price guidance, the recommended retail price of Moutai Feitian, one of its most popular products, rose from 1,299 yuan to 1,499 yuan, a 15.4 percent increase.
"Moutai has been quite tough on pricing. The current price is not just recommended, but essential," said Liu Li, a Moutai distributor in Shanghai.
"As distributors we welcome the new pricing because it is good for branding, and in line with Moutai's image as a premier liquor brand. It is also a natural result because Moutai is really in short supply," said Liu.
The company also said that it is going to increase supplies before Spring Festival, which starts on Feb 16 this year. Usually the 30 days around Spring Festival and the seven-day break for the National Day in October are seen as peak seasons for consumption of high-end liquor.