Arctic foxes imported to improve local breed
Share - WeChat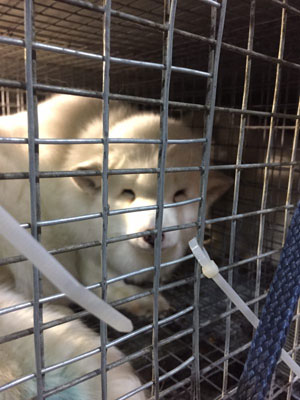 A cargo aircraft carrying 2,000 arctic foxes from Denmark landed in Qingdao, Shandong province, on Tuesday night.
The foxes are superior breeds worth more than 10 million yuan ($1.5 million), said Zhan Yifei, an official from the Qingdao airport inspection and quarantine bureau.
The animals were imported to improve the quality of the breed in China. "Animal breeding and processing industries have developed rapidly in recent years, and these foxes are expected to boost modern husbandry in China," Zhan said.
The arctic fox, also known as a white fox or blue fox, is an incredibly hardy animal that can survive frigid arctic temperatures as low as-50 C in the treeless lands where it makes its home.
Photos showed that the foxes were in sound condition when they arrived after a 12-hour flight.
After strict inspection, the foxes will be transported to Weifang, Shandong, for 30 days of quarantine, Zhan said.
Li Zhongdong, deputy manager of the international freight department of Qingdao Airport Logistics Co, said it's not easy to unload the animals from a plane.
"Arctic foxes are sensitive and are inclined to fight each other, especially after a long journey in uncomfortable surroundings like a closed flight cabin," Li said.
The foxes were imported by Heilongjiang Bolong Animal Husbandry Co, which will raise and breed them in Mohe, the county with the highest latitude in China. Bolong specializes in fox fur.
The company imported 2,000 arctic foxes from Finland in December 2016, with the aim to build a first-class arctic fox breeding farm, Heilongjiang Daily reported.
Heilongjiang Daily reported.