The magic of Alaskan king crabs
Share - WeChat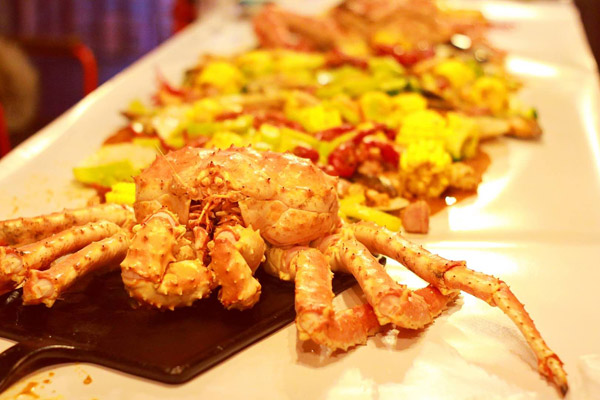 To a majority of food lovers, spicy crawfish is one of the favorite choices when it comes to street food in China.
Just imagine calling a group of friends, finding a jam-packed stall, sitting on tiny plastic stools and ordering a bucket or two of red crawfish. That's the beginning of a pleasant evening.
Actually, Western foodies share similar menus, but one of their ultimate dishes is the renowned Alaskan king crab.
In Beijing, there's a restaurant called The Boiling Crab, where you can taste unbelievable Alaskan king crabs and enjoy typical Cajun cuisine.
According to Yan Gedong, the owner of the restaurant, Cajun cuisine is a unique cooking style originating in Louisiana, United States, that brings together a mix of French, Canadian, African and Native American influences.
"It is named for the French-speaking Acadian people deported by the British from Acadia in Canada to the Acadiana region of Louisiana," he added.
Usually, an authentic Cajun meal is cooked in three different pots. One pot is used for the rice or cornbread, another is for vegetables, and the third is for the main dish.
Most Popular