Walking tall in a world of their own
Share - WeChat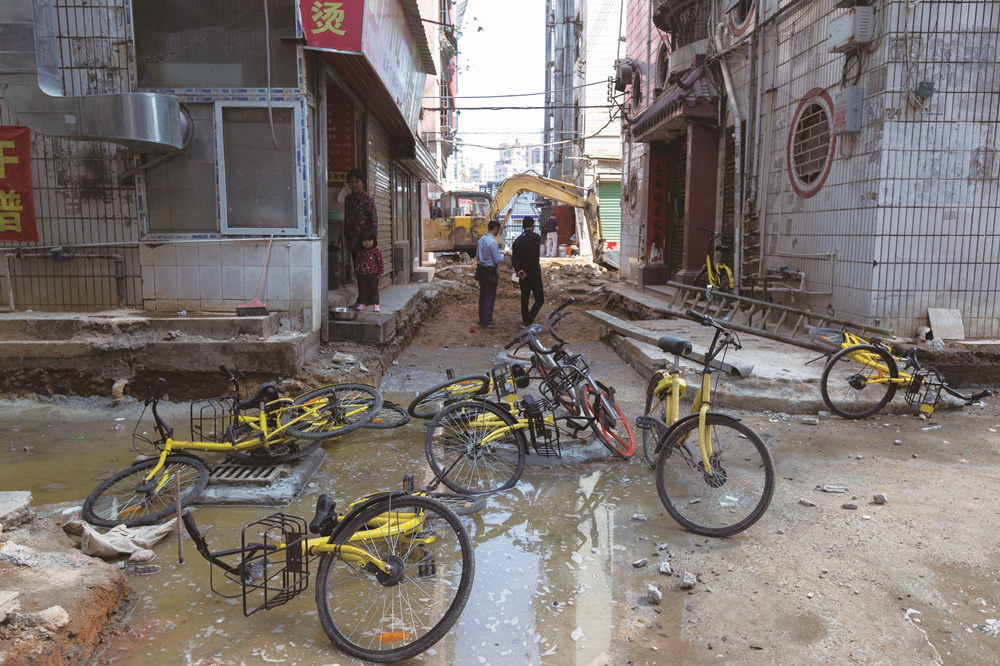 Shenzhen's archetypal Sanhe marketplace has made its name as a haven for migrant workers seeking riches far away from home. Luo Weiteng finds they're a resilient lot, nonchalantly eking out a living with pride. But, time is fast running out at Sanhe to make way for development.
They look abandoned, forgotten and lost in another part of the world, but they aren't desolate as yet.
For decades since China's opening-up, migrant workers from all corners of the country have played a seminal role in Shenzhen's economic miracle, pouring into the city's iconic Sanhe labor marketplace, having to endure wearisome train pilgrimages from their hometowns chasing their financial dreams.
They have staked their future in Sanhe as a stepping stone to riches, toiling first in strenuous, low-paying jobs that would raise eyebrows among locals as Shenzhen races ahead with its unbridled economic, technological and industrial development over the past few decades.
Sanhe, nestled in Shenzhen's northern Longhua subdistrict, takes its name from one of the twin-pillar employment agencies in the area — Sanhe Human Resources Company and Haixinxin Human Resources Company — which have spearheaded a phalanx of more than 10 similar companies that have sent millions of workers to a vast spectrum of labor-intensive markets feeding industries in Shenzhen and across the Pearl River Delta, making Sanhe a buzzword on the lips of almost every transient worker embarking on a journey down south.
Amid the hustle and bustle of neighboring urban villages, the marketplace is also a little-known shelter for debt-ridden and internet-addicted youngsters, who are tired of the monotonous work at assembly lines and have chosen to pursue an unexamined life working as temporary laborers and paid by the day.
They call themselves Sanhe dashen, with a stint of self-mocking and pretentiousness, but exhibiting high self-esteem and bragging about their ability to make a living in Shenzhen without having to slog like a dog. Most of them, unskilled with no savings and no academic degrees and some without even proper identification papers, would idle away day in and day out, sometimes for years, but packing off on "lightning" job assignments fixated by the job agencies.
But, it seems, the tide has turned. Illegal labor recruitment has fallen out with the authorities, land-hungry developers have set their sights on Longhua, and working in cities around Shenzhen appears to be losing its allure among migrant workers who may now have to either hesitantly pack up for home or hang on.
"This winter, Longhua has got a whole lot quieter as city planners clamp down on an illegal web of job recruitment in Sanhe and renovate nearby urban villages," says Fang Zhaozhao, a long-time Longhua resident. "This may be just the tip of the iceberg."
Longhua is at the mercy of change as Shenzhen evolves beyond its manufacturing roots and looks to high-tech industries and a high-end service economy for future growth. For unskilled workers, such high-speed ambitions may herald a failed promise of a better life earned far from home in Shenzhen — a top-tier metropolis that's essentially built on migrant labor and immigrants.
The sprawling megacity of 12 million people has seen just 34 percent of its population being granted permanent residency under the nation's household registration system. The other 7.9 million are said to be migrants who venture beyond their hometowns and villages for better employment in southern China's Pearl River Delta megalopolis — the country's traditional manufacturing heartland crawling with all sorts of labor-intensive job opportunities.