Anhui 'wingless angel' offers inspiration via livestreaming
Share - WeChat Woman shows followers how she overcomes disability to live independently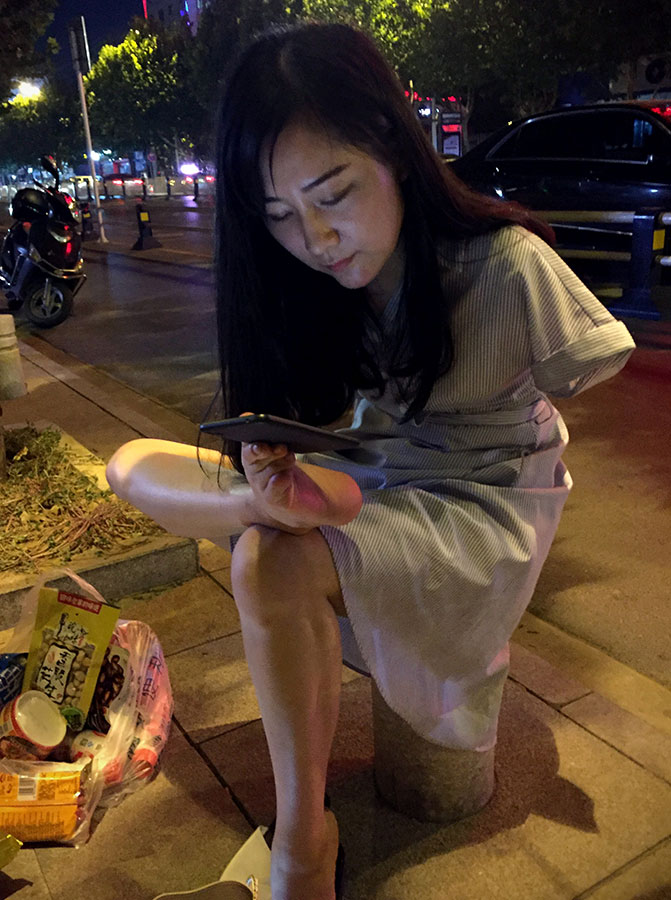 While many Chinese women chase fame and fortune by having plastic surgery and showing off their "beach bodies" via the booming livestreaming industry, Yang Li has touched the hearts of millions of viewers by sharing her daily life.
Yang's arms were amputated after an accident involving a high-voltage cable when she was 4 years old, forcing her to find new ways to carry out everyday tasks.
Her livestreaming success is not the first time Yang, 27, has gained public attention. She made headlines in 2006 when she took the gaokao, the national college entrance exam, and used her feet to write the answers.
In fact, she does everything people normally do with their hands with her feet, from washing, cooking and eating to shopping, and even applying makeup.
"I learned to do makeup during college," Yang said. "My classmates all styled their eyebrows and applied lipstick. I thought they looked pretty."
The confident young woman works at a company in Bengbu, Anhui province. During her lunch break, she uses a livestreaming app on her smartphone to show followers how she overcomes her disability to live independently.
Yang usually holds her phone with one foot while talking about her life. She also shows her followers around her neighborhood by placing the phone on her chest with a stabilizer.
After she shared her first video in July, her posts went viral, earning her more than 2 million followers, who call her "wingless angel" and "inspirational sister".
"Unlike other hosts, I don't sing, tell jokes or pretend to be cute in my videos. I just show them how I live my life," Yang said, adding that she has never asked for a "gift", a term for the online cash rewards given by followers. Some people have criticized her for taking advantage of her disability. Yet Yang said she doesn't let the comments affect her.
"Normal people can livestream, so why can't I? I'm not upset by those remarks," she said. "Most people encourage me. I can feel their respect and kindness. As a disabled person, I've earned the recognition from society that I have longed for since childhood."
After Yang's arms were amputated, her mother taught her how to use her feet to do things that seem impossible to others, such as using chopsticks, brushing her teeth, and writing.
She remembers how it used to take her two hours to finish a meal, and how she had to hold a pen with her bare feet to do her homework in winter when the temperature dropped to-5 C.
Practice makes perfect, her mother often told her. "My mother taught me to be independent so that one day I would be able to look after myself," she said.
Yang enrolled to study at Anhui Agricultural University in 2007 and now earns her own living.
"After my accident, my mother quit work to look after me, while my father had to support the whole family by himself. Now that they are getting old, I don't want to be a burden on them any more. I have to live my own life," she said. "I also want to prove my value to society."
The "wingless angel" added that she wishes to spread messages of kindness via her livestream.
"If I drop something in the street there's always someone who helps me. I share these moments in my videos so that more people can experience this kindness," she said.
Xinhua