3D printed Buddhist statues displayed in east China
Share - WeChat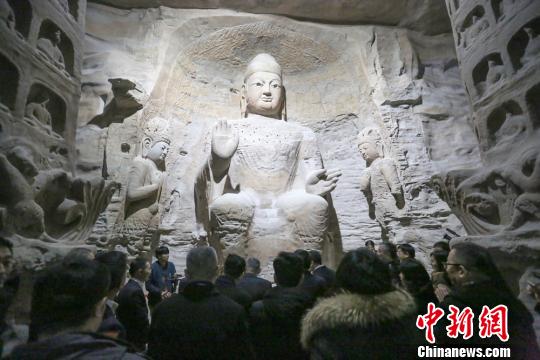 TAIYUAN - Thanks to 3D printing technology, three reproductions of Buddhist statues in the Yungang Grottoes, a 1,500-year-old UNESCO World Heritage site, are being displayed in the eastern coastal city of Qingdao.
The Yungang Grottoes art gallery, which opened to the public Saturday, displayed three full-size replicas of Buddhist statues from the caves in northern China's Shanxi Province.
The middle one stands 10 meters high, while those beside it are 6 meters high.
"It's hard to believe that they are reproduced. They look so real," said Zhang Zhuo, head of the Yungang Grottoes Research Institute.
The two-year program was jointly launched by Yungang Grottoes Research Institute, Qingdao Publishing Group and Zhejiang University.
Researchers built 3D models for the three statues, then used 3D printers to reproduce them.
"The color was first painted automatically by machines. Then artists from Yungang added color in detail," said Diao Changyu, assistant to the dean of the cultural heritage institute at Zhejiang University.
"It's amazing to see the Buddha figures of Yungang. I plan to visit the grottoes next year," said visitor Cai Meijiao.
The Yungang Buddhist Grottoes in Datong City boast 51,000 Buddhist images in caves stretching for 1 kilometer along a cliff. It was listed as a UNESCO World Cultural Heritage site in 2001.
According to Zhang, the reproduction programs of two other caves, supported by 3D printing technology, are underway.