Free noodles for sanitation workers at Harbin restaurant
Share - WeChat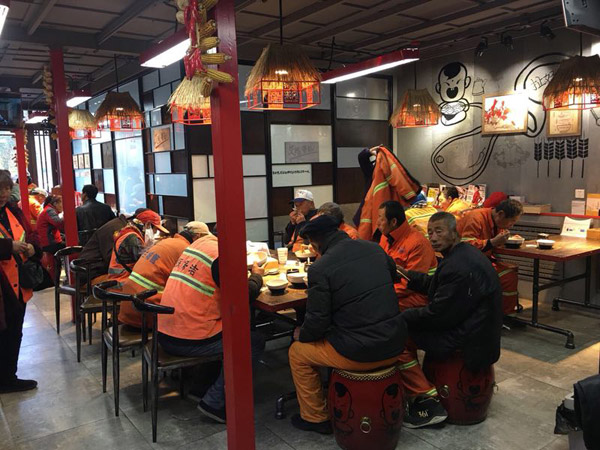 Sanitation workers have free lunch at the noodle restaurant in Harbin, capital of Heilongjiang province. [Photo provided to China Daily]
Since its opening in December 2016, a noodle restaurant in Harbin, capital of Heilongjiang province has provided more than 20,000 free bowls of noodles to sanitation workers.
"In fact, I was not sure about it when I got the news about the free lunch," said Jiang Zhenxing, 61, a sanitation worker working nearby. "To my surprise, I was warmly welcomed by the waiter when I came into the restaurant to confirm it."
After having three bowls of noodles, Jiang left the restaurant with incredible gratitude.
"The selfless contribution of such a business and good service by the waiters can make people feel the restaurant is filled with great love," Jiang wrote in his letter of thanks.
"Our boss' mother was a sanitation worker before," said Liu Zhenliang, the manager of the restaurant. "He has deep experience with their hard work. Therefore, he wants to repay society in such a way."
According to Liu, every day about 50 customers enjoy the free noodles, which cost them about 600 yuan.
"Every time I come to have lunch, I can find several sanitation workers here," said a customer surnamed Liu. "We really want to see more such businesses provide help to those in need."