Haishu district witnesses integral improvement over the past year
Share - WeChat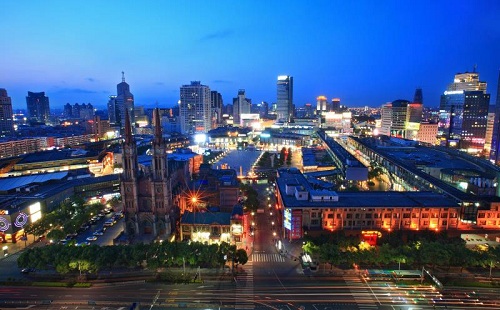 The beautiful night scene in the downtown of Haishu district. [Photo provided to chinadaily.com.cn]
Haishu district in Ningbo, Zhejiang province has witnessed an integral improvement after the adjustment of the city's administrative divisions over the past year, which was seen in a vast array of aspects.
The district generated gross regional production of 81.93 billion yuan ($12.37 billion) and total financial revenue of 13.74 billion yuan, an increase of 11.3 percent year-on-year in the first three quarters this year, according to the latest statistics.
Complete industrial structure
The central area of Haishu district has become a new hub of the district's intelligent manufacturing industry.
The Ningbo Intelligent Manufacturing Industry Research Institute (NIMIRI) settled in the district earlier year, bringing in 13 high-end sci-tech talents and key projects, such as the cloud platform of designing intelligent equipment and 3D printing equipment.
A local aerospace machinery manufacturing company cooperated with the branch of Chinese Academy of Armament Science in Ningbo to set up a New Material Research Institute of Central and Eastern Europe in June this year, creating an incubator of high-end manufacturing industry integrating the military industry with the private industry.
Besides, a batch of advanced manufacturing projects, including a state key laboratory, settled in Haishu district.
The district's commercial development has ushered in a new era with the district becoming a pilot of the transforming and upgrading traditional commerce in October last year.
A local Yintai Department Store has invested 120 million yuan to upgrade itself into a high-tech one, offering shoppers an experiential shopping place.
Pan Tianyi commercial area is about to take shape and the Tianyi commercial area is Ningbo's commercial center.
With the help of subway line one and two, the Tianyi commercial area is able to promote the development of its surrounding areas, such as the Nantang ancient street, one of the eight ancient streets in Ningbo and the Moon Lake Garden, an integrated street with business, entertainment and cultural exhibitions.