Auction offering insight into brutal chapter of history
Share - WeChat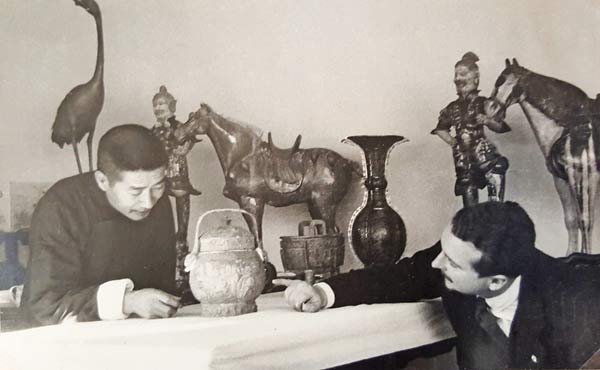 Marchese Taliani de Marchio examines a bronze wine container during his time in China. [Photo/China Daily]
A collection of Chinese artifacts and furniture with links to the horror of Japan's invasion of China will be auctioned in London on Nov 9.
The antiques were collected by the Italian diplomat Marchese Taliani de Marchio, who was Italy's representative to Chiang Kaishek's Republic of China administration in Nanjing from 1938 to 1946, although he was interned for two years by the Japanese from 1943.
While in China, Taliani and his wife, the exiled Archduchess Margaretha of Austria, collected rare and important pieces "that convey the rich history of Chinese decorative arts", according to the auction house Bonhams.
Among the highlights are a number of classical pieces of Chinese furniture dating from the 16 th and 17 th centuries that are made from rare huanghuali wood, also known as fragrant rosewood.
A pair of large Ming Dynasty (1368-1644) cabinets, acquired in Beijing from the furniture dealer Robert M Drummond on April 15, 1939, is expected to fetch at least 300,000 pounds ($397,000) at Bonhams Fine Chinese Art sale.
Taliani lived in China at the time of its war of resistance against a brutal Japanese invasion that began in 1931 and continued against the backdrop of the wider World War II until Japan's defeat in 1945. China was also beset by civil war at the time, between the Communists and the Nationalists.
Colin Sheaf, head of Asian Arts at Bonhams, said major furniture collectors from the Chinese mainland were showing a lot of interest in the sale.
"They are particularly excited when items have got a good provenance, and what makes this collection fascinating for collectors is that it was bought by the Italian ambassador in China in the 1930s," he said.
When the war ended, the new Italian government reconfirmed Taliani as ambassador to China, until 1946.
Along with Taliani's collection of furniture and artifacts, many of the purchase invoices also survived, providing "an important documentation of Chinese art dealers active in Shanghai and Beijing between 1938 and 1946".
"The majority of the invoices are dated between December 1938 and 1943, with a significant gap until April 1946, explained by the fact of the Marchese and Marchesa Taliani's internment by the Japanese," Bonhams said.
Bonhams international head of Chinese art, Asaph Hyman, said: "It is very rare that important pieces with such exceptional documented provenance come to market."
Hyman said the sale is "a unique opportunity for collectors and museums alike to acquire what are unquestionably masterpieces of classical Chinese furniture".
Also on sale is a rare set of four huanghuali folding chairs, estimated at being likely to sell for 200,000 pounds, which are "unique individually and more so as a set".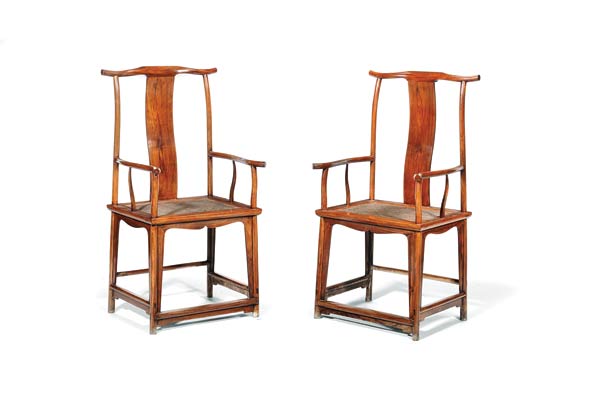 Exquisite furniture will be sold at Bonhams auction on Nov 9. [Photo/China Daily]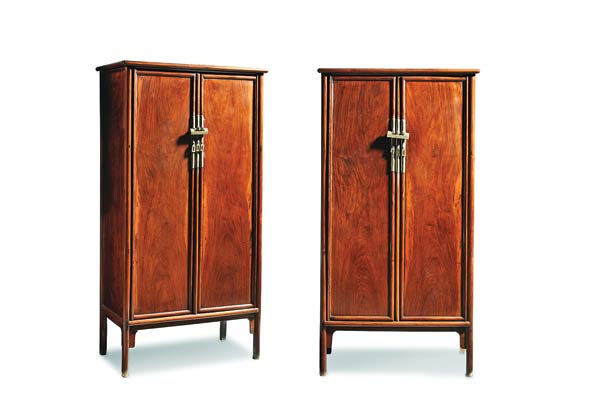 Exquisite furniture will be sold at Bonhams auction on Nov 9. [Photo/China Daily]