Cryptocurrency platform to end transactions
Share - WeChat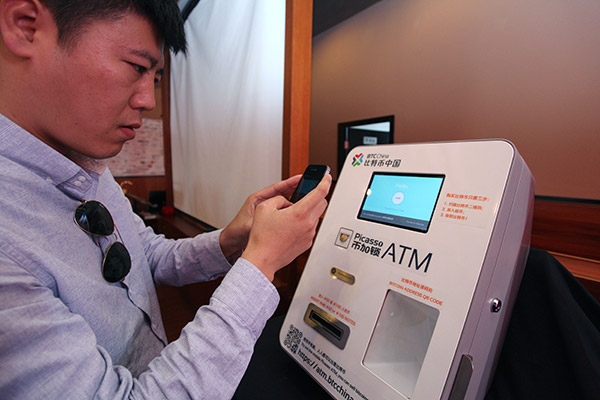 A man takes a photo of China's first Bitcoin ATM, which was installed at a coffee shop in the Zhangjiang area of Shanghai. [Photo/China News Servcie]
BTC China, one of China's largest online cryptocurrency trading platforms, ended its top-up business at noon on Wednesday, and said it would cease all transactions from noon on Saturday.
The platform said in a statement that the moves are to meet the requirements of a joint announcement by seven government departments released on Sept 14, which asked virtual currency transaction platforms across China to check risk exposure and protect investors' rights.
Investors need to withdraw all the assets by noon on Oct 30, and if they do not want to keep their digital assets, they need to transfer the assets into renminbi before the withdrawal, the announcement said.
All withdrawals will be completed within 72 hours, including renminbi, bitcoin, litecoin and Ethereum (another cryptocoin that emerged after bitcoin), BTC China said.
The "mining" function, or the cryptocoin supply channel BTC China, will not be impacted and will continue to operate afterwards, the platform said.
Other bitcoin exchanges in China, including Huobi and OKCoin, have announced that they will meet regulators' requirements to halt trading by the end of October.
Experts pointed out that ending cryptocurrency transaction does not conflict with China's support for blockchain technology development.
"We must make it clear that blockchain as a technological innovation that China encourages is not equal to bitcoin trading, and halting these exchanges is not in conflict with China's efforts to support blockchain development", said Yang Dong, head of the Fintech and Cyber Security Research Institute at Renmin University of China.
Since early September, the authorities in Beijing and Shanghai have been talking to cryptocurrency exchanges about improving the platform's risk exposures and investor protection mechanisms.
In a recent notice by seven authorities including China's central bank, cryptocurrency exchange operations were described as "illegal operations", and the authorities required that all trading operations must be ended by Oct 30.
The price of these virtual currencies fluctuated during the past weeks after the regulators' announcement, and daily transaction volume also went down to less 1,400 coins on major exchanges.
At their peak, daily transactions could exceed 5,000 coins. The price of bitcoin fulctuated between 23,250 yuan ($3,540) to 25,550 yuan in the past three days.
"After trading the coin for seven months, I would say it felt more like gambling than investment, so I quit", said Zhao Shenghai, an investor from Zhoushan, Zhejiang province.