New carp species to extend scale of GM produce
Share - WeChat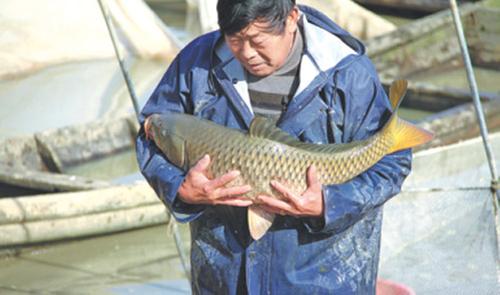 A worker holds a guanli, a genetically modified species of carp, at a fish farm in Hubei province. [Photo/CHINA DAILY]

A deeper pool
Scientists created the guanli by mixing growth hormone genes of a fast-growing, grass-eating carp with those of an omnivorous carp species native to the Yellow River.
"One common misconception people have is that growth hormones are anabolic steroids, but they are totally different substances-the former is a type of protein and the latter is a synthetic drug designed to mimic the muscle-building qualities of testosterone," Wang said.
Unlike steroids, which can build up in the body and cause a range of health issues, growth hormones can be broken down into amino acids, losing their growth-stimulating properties, and absorbed as nutrients.
Wang said scientists have been taste-testing the fish for several years and have found no differences from regular carp: "Crown carp are essentially as safe to eat as conventionally grown carp."
The fish can grow to adult size twice as quickly as conventionally farmed carp, reaching the adult size of 1 kilogram in just 12 months. In addition, it requires about 10 percent less food to reach maturity and can eat a wider range of foods, from microorganisms to grass.
Those factors mean widespread production of the fish will save time and labor, and reduce costs. "It will have tremendous economic value considering how important carp has been in the Chinese diet," Wang said.
Last year, various types of carp were the staples of China's 2.37 trillion yuan ($365 billion) aquaculture industry. At 5.9 million metric tons, grass carp were the most widely grown freshwater species, according to a report published by the Fisheries Bureau at the Ministry of Agriculture.
"Given the significance of carp, we must go the extra mile to make our creations completely safe for both consumers and the environment," Wang said.
One widespread concern is that the fast-growing, eat-any-thing crown carp will outcompete other aquatic wildlife, dominating and disrupting the ecosystem with its offspring and genes.
As a result, crown carp are now grown in confined tanks, but the threat that the fish could escape into the wild has seen scientists weaken its survival and reproductive capabilities via bioengineering.
To eliminate the environmental risk, scientists have also developed an infertile, transgenic carp called jili, or "lucky carp", which has the same fast-growth characteristics, but is unable to pass on its genes, Wang said.
Scientists hope jili will become a new source of food.
In July last year, the Institute of Hydrobiology signed a contract with Dahu Aquaculture, one of China's biggest suppliers of freshwater products, to accelerate the commercialization of crown and lucky carp.
The company said plans for commercialization are awaiting final approval from the Ministry of Agriculture and other regulatory agencies. At present, though, the cost of producing the carp on an industrial scale remains largely unknown, along with the potential future revenue.