Sichuan: From an earthquake memorial to 'agritainment'
Share - WeChat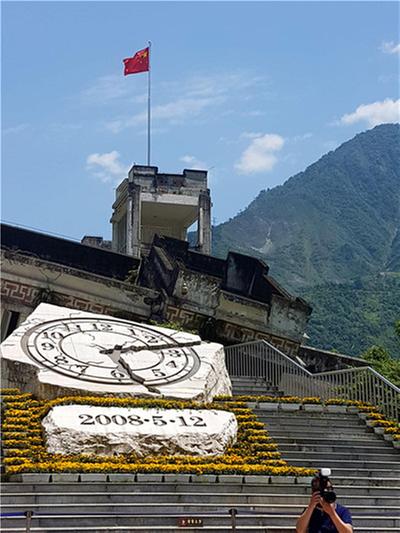 The structure of a clock at the Wenchuan Earthquake Memorial Museum is inscribed with the date and time when Sichuan was hit by a massive earthquake. [Photo by Melanie Peters/For China Daily]
Collapsed buildings and rubble frame a sculpture of a huge jagged clock face inscribed with the date and time when a natural disaster struck Sichuan province on May 12, 2008.
The structures form part of the Wenchuan Earthquake Memorial Museum, located in the ancient town of Anren in Dayi county.
The edifice speaks to the triumph of the human spirit-the courage to get back up when all seems lost.
Nine years ago a devastating earthquake hit Wenchuan. More than 70,000 people were killed and nearly 5 million were left homeless.
Today breathtaking mountains and forests form the backdrop to the museum built in memory of the disaster.
The space, sombre yet tranquil, receives many visitors and tourists.
It is the epicenter of one of China's worst earthquakes in 30 years. With a magnitude of 7.9 on the Richter scale, the earthquake destroyed everything in its path.
A few years ago the Chinese government commissioned architects from Tongji University, in Shanghai, to build a museum as a reminder that man has little power when up against the force of nature.
The team was led by architect Cai Yongjie, and experts in the field of seismology were able to offer incredible sight. Cai designed large subterranean buildings with green rooftops. From above, it offers an image of a land cracked and destroyed by the underground tectonic plates.
In the museum stark photographs, relics and wax sculptures tell the story of the disaster and the rescue mission. An earthquake simulator forms part of the narrative to help visitors experience the vibrations of a real seismic event.
The museum is open daily.