Zou charting his own path
Share - WeChat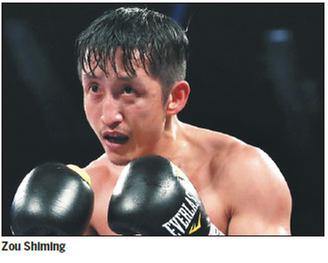 Zou Shiming is determined to be his own man.
When the world flyweight champion from Zunyi, Guizhou province, steps into the ring for his first WBO title defense later this month, he'll also be the show's promoter.
More critically, he'll have a new training staff in his corner.
After recently opting not to renew his contract with Las Vegas-based Top Rank Boxing and severing most ties with long-time management company SECA, Hall of Fame trainer Freddie Roach and conditioning coach Justin Fortune, Zou (9-1, 2 KOs) will pretty much be on his own when he faces Japan's Sho Kimura (14-1-2, 7 KOs) on July 28 at Shanghai's Oriental Sports Center.
There's been no announcement on who will serve as the Chinese champion's seconds.
With great fanfare and Top Rank's backing, Zou launched his pro career in April 2013 after winning flyweight gold at the 2008 Beijing Olympics and the 2012 Games in London. He also won a bronze medal at the 2004 Olympics in Athens.
In 2015 he lost a challenge for the IBF world title to Thailand's Amnat Ruenroeng in Macao, but rebounded to beat another Thai, Prasitsak Phaprom, for the vacant WBO crown last November in Las Vegas - a fight that attracted over 100 million television viewers in China.
Although he has contractual obligations with SECA through 2019, the 36-year-old Zou has decided to promote himself from now on.
"I think he is making a big mistake," SECA founder and CEO Li Sheng told the South China Morning Post.
"If he wants to become his own promoter, that's his own choice. We wouldn't recommend what he's doing.
"I understand that he has his own perspective, especially at this stage of his career. I guess he has achieved everything he wanted to achieve. His priorities might have changed."
For the 28-year-old Kimura, who captured the WBO Asia Pacific title last fall with a decision over compatriot Masahiro Sakamoto, the 12-round title challenge marks a huge step up.
Ranked No 7 in the world, Kimura's only loss came in his pro debut in 2013, and he had back-to-back draws in 2014-15.
He has fought 68 pro rounds against opponents with a combined record of 56-73-12, compared to Zou's 87 rounds against 145-11-7 opposition.
Still, changing trainers at this stage of Zou's career is a calculated risk for the Chinese champ, who is still learning the nuances of punch-for-pay.
"Zou has all the skills in the world, but he sometimes reverts to bad habits from his amateur days," Roach said before Zou's IBF title bout with Ruenroeng.
"He still isn't 100 percent comfortable fighting in the pro style, and that's something we're continually trying to address.
"He has to find that comfort zone where he moves in and out of the pocket, shortens up his punches and keeps pressure on the other guy. It doesn't happen overnight."
And at age 36, time is running out.
murraygreig@chinadaily.com.cn