Kvitova taking it one game at a time
Share - WeChat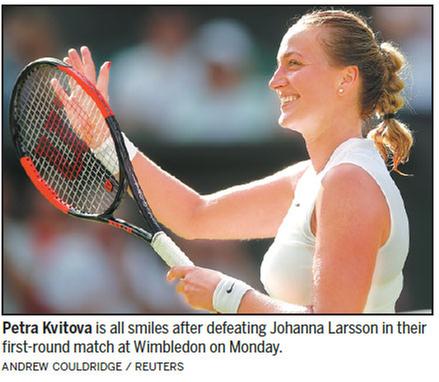 LONDON - Two-time champion Petra Kvitova denies she is the favorite to win Wimbledon, insisting she remains an "underground" figure as she returns from the knife attack that nearly ended her career.
The Czech star is playing just her third tournament on the comeback trail after the terrifying December ordeal at the hands of a knife-wielding home invader.
She sustained severe injuries to her playing left hand while fighting off the attacker.
On Monday, in what was just her eighth match back since returning to tennis in May, the world No 12 beat Sweden's 53-ranked Johanna Larsson 6-3, 6-4 on Centre Court in an emotional first-round return to Wimbledon, scene of her greatest triumphs.
Kvitova has already been installed as the bookmaker's favorite to win the crown, ahead of compatriot Karolina Pliskova, British hope Johanna Konta, Spain's Garbine Muguruza and French Open champion Jelena Ostapenko.
But Kvitova maintained she was an "underground" outsider with six more stops to go before reaching the dream destination - starting with Madison Brengle of the United States in round two.
"My expectation is to stand up on Wednesday in the match and just play what I can," said the 27-year-old.
"I don't see myself really too ahead. I'm just here to play every single match that I can. I'm not really thinking that I'm the favorite. I'm still underground."
'It's not easy'
Kvitova refrained from speaking directly about the home invasion as the police investigation in the Czech Republic is still ongoing.
"Every traumatic situation is always tough. I feel like for women it's more difficult because we are more sensitive and more emotional," she said.
"It's not easy. You still want to focus on each point you are playing, but at the same time you get upset with something else. It's just difficult to switch to tennis again."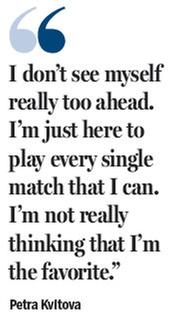 The scars from the attack are causing Kvitova problems. She used a cream throughout her opening match to help grip her racket.
"With the scars on my hand, it's helping me to keep the racket stronger than before."
Kvitova's surgeon sat in her box to watch Monday's match.
"It's special; I'm really glad that he took the invitation. He came with his wife to support me," she said.
Feeling the energy
The 2011 and 2014 champion received a heartfelt welcome from the Centre Court crowd, but they did not witness quite so many of Kvitova's signature fist pumps.
"I couldn't still do it with my left, but that's OK. I'm using it sometimes. It's weird. But I can get used to this," she said.
"I felt the energy from the crowd and it was amazing to be back here at Wimbledon and playing on the beautiful Centre Court. It's the favorite court of my career.
"It was my motivation to come back and play in Wimbledon. I'm very happy that the dream came true."
Kvitova was knocked out in the second round of the French Open in May in her comeback tournament but went on to win the Aegon Classic in Birmingham, one of the Wimbledon warm-up events, boosting her credentials as a potential title winner at the All England Club.
She was due to play at Eastbourne last week but pulled out with an abdominal injury.
The Czech No 2 said she felt no pain during Monday's opener, but added she was lacking match sharpness in her serving and ground strokes.
Agence France-Presse