Pop diva Coco Lee savors new tour in China
Share - WeChat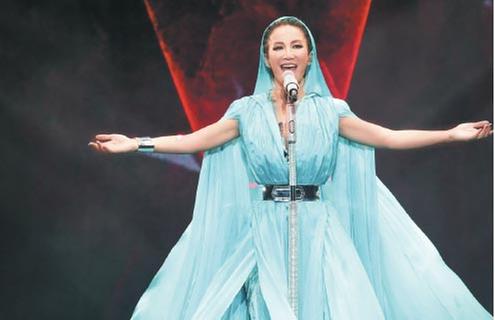 When Coco Lee thinks of her show or one song, she thinks of the whole entire image. [Photo provided to China Daily]
It was a big year when Coco Lee was 18. It was in 1993 that she participated in the annual New Talent Singing Awards held in Hong Kong and she was the first runner-up by performing Whitney Houston's hit, Run to You. It won her a recording contract, which enabled her to release her debut album, Love From Now On, the next year.
The young singer, who was born in Hong Kong and based in San Francisco, then made a great effort to launch her music career. She left her home, did her own makeup and went to work by riding a motorcycle.
"I would sit in the backstage for a whole day, wearing heavy makeup and waiting for my name to be called," she recalls. "But when I performed onstage, I never felt tired and I knew I belonged there."
Decades later, she is one of the best selling pop divas. With her ongoing tour, titled 18, Lee hopes to bring back all her memories of that year of destiny and share them with her fans.
Going ahead
Starting from Shenzhen this May, she is also visiting other Chinese cities, including Shanghai and Beijing, and will take this tour abroad by performing at New York, Los Angeles and Toronto.
"So far, the tour is amazing. I feel touched when the audiences sing with me from the beginning to the end," says Lee. "The show is very entertaining. You don't have to know all my single songs. You don't have to be a fan for very long time. But you can still be entertained. There are lots of dancing, costumes and you really get to understand who I am as a person and as an artist. You hear stories, my views on love, life and music. Overall, the show is about positivity, it's about lifting people up. When you leave, you feel happy."
"I participate in every single detail of the tour, being the producer, the creative director. It has to be from me, has to be my vision, has to be my emotion, and has to be my story," she adds.
From the lighting, the LED content and laser effects, to the costumes and music arrangement, Lee says that she is a very visual person. When she thinks of her show or one song, she thinks of the whole entire image.
As for the program list, she wrote down the songs she loves. She also asked fans to give her their favorite songs to consider.
"That's why it took me a long time to make a tour. I gained a lot of white hair and had sleepless nights, but it's totally worth it," says Lee. Her last tour was about seven years ago.
Music heals souls
Ever since she broke onto the scene, the pop star has been known for her wide vocal range and energetic image on screen and onstage. She is the only Chinese-American singer to perform at the Oscars and has been a hit in Asia since 1993, with her unique mix of R&B and hip-hop as well as her love ballads.
With about 30 albums released in Mandarin, Cantonese and English, Lee has kept a balanced life after marrying Canadian businessman Bruce Rockowitz in 2011. Fans can only get a glimpse of her by watching some singing-competition reality TV show, in which Lee worked as one of the judges.
Her last album, Illuminate, was released in 2013, for which Lee performed not only trademark dance electronic music, but also rock 'n' roll and reggae for the first time.
Her most recent performance on screen was early in 2016, when she participated in the fourth season I Am a Singer, produced and aired by Hunan Satellite TV Station.
She won the night with songs, including A Love Before Time, the theme from Crouching Tiger, Hidden Dragon that had taken her to the Oscars stage in 2001. Revisiting that career highlight, Lee performed that song while wearing the same red gown she wore at the Academy Awards.
"As the curtain went up, I was totally in the zone," recalls Lee of her moment at the Academy Awards. "It was like when I performed at the singing contest in 1993. I saw the stage as my own place."
For Lee, singing and performing are about sharing stories.
"Sometimes you feel you are lost or sad. You need an inspiration. You need an answer. You can find it in music, in a song. Or the song gives you comfort. That's what music does to me. I want my songs do the same thing to my fans," Lee says.
Lee's father died before she was born. As the youngest of three daughters, Lee says that she is grateful that all her family members are very supportive of her career.
Balancing work and family, she says, is something she is still learning.
"I have a great support from my family," she says. "They come to every single show. My husband understands how hard I work."
Most Popular