Exchanges to beef up food safety
Share - WeChat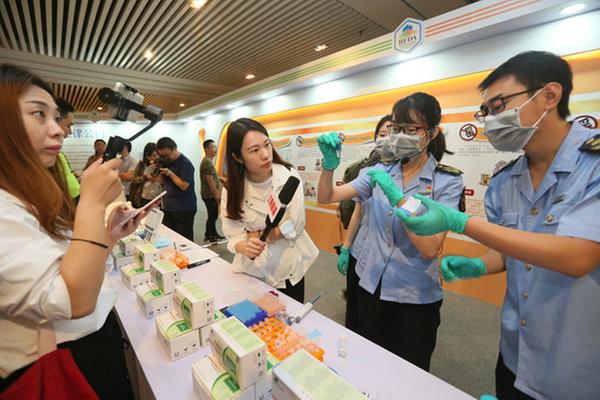 Officers from the food and drug administration conduct tests at a publicity event in Beijing's Dongcheng district earlier this month to improve the awareness of food safety. DA WEI/CHINA DAILY
Increased international exchanges and cooperation are required to improve food safety, according to senior officials at the eighth Belt and Road Eco-Agriculture and Food Safety Forum in Beijing on Thursday.
"With economic globalization, food safety is a global issue and can only be ensured with the adoption of unified global standards," Zhang Baowen, vice-chairman of the National People's Congress Standing Committee, said during a keynote speech at the forum.
"Countries participating in the Belt and Road Initiative can increase exchanges and cooperation to promote standardization in agriculture and food safety, and promote their trade among the nations involved."
The forum is a key activity of this year's China Food Safety Publicity Week-held across China in June every year since 2011-which opened on Thursday. The event is aimed at promoting food safety awareness among consumers, and urging improved supervision of food safety by authorities.
"We are fully aware of the importance of international cooperation in ensuring food safety," said Sun Xianze, deputy head of the China Food and Drug Administration. "Food production and supply chains have been extending across borders and no one country can deal with food safety on their own."
He added that countries participating in the Belt and Road Initiative are generally developed in terms of their agricultural sector, and they have common interests and needs in the protection of agricultural ecology, innovation of food technology and food safety risk management.
Trade volume of agricultural products between China and Belt and Road countries exceeded $43 billion last year, accounting for 23.6 percent of China's total, according to Qian Keming, vice-minister of commerce.
China will increase trade in agricultural products with Belt and Road nations and promote industrial cooperation in the sector so exchanges and cooperation benefit all countries, Qian added.
Food safety in China has improved in recent years, and inspections show that more than 97 percent of major agricultural products, including vegetables, poultry and aquatic products, were up to standard in the first half of the year, according to Ma Aiguo, chief husbandry expert at the Ministry of Agriculture.
Sun said Chinese authorities face many challenges in the supervision of food safety, adding that China has about 500,000 food producing enterprises and more than 2.4 million restaurants.
The variety of food products in China also poses challenges to supervision, he added.