Robot coding for kids hot in China
Share - WeChat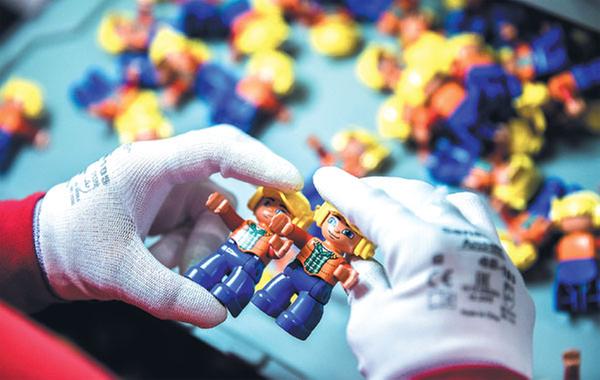 An employee performs a quality control inspection on Lego Duplo figures on the assembly line at the Lego plant, in Nyiregyhaza, Hungary. After turning a loss-making company into the world's most profitable toymaker, Lego is warning that it won't be able to sustain the same growth rates it delivered in recent years. Akos Stiller / Bloomberg via Getty Images
Educationalists say language creates rich dialogue between mankind and machines
Five-year-old Duoduo is clearly hooked on her new toy, a blue robot called Dash. The only child in her family, Duoduo teaches the robot how to dance on her iPad - even naming it meimei, or little sister.
Dash - a programming robot compatible with iOS and Android devices that can be controlled through mobile apps - was designed by Silicon Valley-based Wonder Workshop Inc, and became popular in the Chinese market from last year.
"Our slogan is that coding is the new English. If the English language is a universal communications tool for people, coding is another vital tool for dialogue between human beings and machines in the age of artificial intelligence," said Brian Yang, general manager Asia Pacific at Wonder Workshop, a manufacturer of toy robots which teach kids how to code.
"We're not aiming to train geeks, but foster children's logical thinking and creativity. Learning programming will lay solid foundations for the future," he added.
The company says the past few years have seen coding classes start up in over 24 countries, among them the US, Germany and South Korea.
Educationalists say more parents want their children to be better prepared for the future, especially one in which the central government has set a goal of boosting the nation through science and education.