LeEco reshuffles executive team of listed arm Leshi
Share - WeChat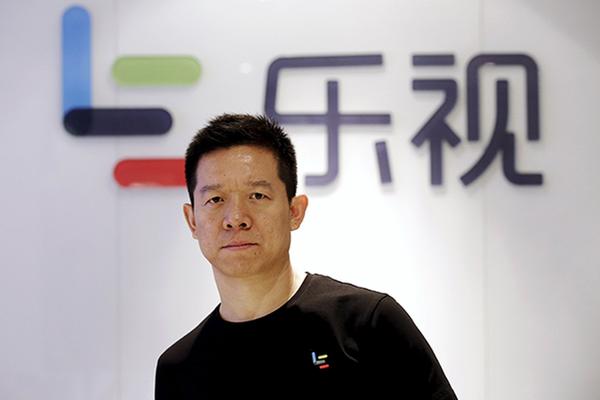 Jia Yueting, founder of LeEco, poses for a photo in front of a logo of his company at LeEco headquarters in Beijing, April 22, 2016. [Photo/Agencies]
Chinese internet major LeEco said it is reshuffling the executive team of its listed arm, Leshi Internet Information & Technology Corp - as the tech conglomerate continues to struggle with a cash crunch issue.
LeEco founder Jia Yueting will step down as chief executive, but remain as chairman, with the company's finance chief also to be replaced, according to a stock exchange filing on Sunday.
The board has approved Liang Jun, who once worked at Lenovo Group Ltd and joined Leshi as an executive in 2012, to replace Jia as CEO.
Jia will focus on corporate governance, strategic planning and core product innovation, the filing said.
Moreover, Zhang Wei becomes the chief financial officer replacing Yang Lijie, who resigned due to personal reasons, the filing showed.
Jia told a news conference on Sunday that LeEco will concentrate on its listed business and automobile operations.
Liang said the company will strengthen operations in TV sales, as well as enhance its capacity in video content production in the future.
Cash-strapped LeEco is restructuring its business and moving to recover its financial position from a cash crunch and corporate overextension last year.
Jia has pledged to pay more attention to the listed business and said he would look at integrating other parts of the business into that unit.
In January, LeEco secured 16.8 billion yuan ($2.4 billion) in funding led by Sunac China Holdings Ltd, a Hong Kong-listed real property developer, which became the second largest shareholder of Shenzhen-listed Leshi.
Sunac said the management change was not an attempt to take more control of Leshi. Liu Shuqing, a Sunac-appointed director on the board of Leshi, emphasized there was no fight for control and they were bullish on LeEco's prospects.
"Jia is actually transferring his management power and will put more efforts in dealing with LeEco's electric vehicle segment," said Shen Meng, director of Chanson & Co, a boutique investment bank.
Shen said Liang Jun could be acceptable for both LeEco and Sunac.
"Sunac will have the financial control over Leshi and its core business. It is good news for investors as Sunac will pay attention to the operational stability of the listed companies," Shen said.
Shen added that LeEco should revert its focus to its core businesses, such as TV and the online entertainment platform, shrinking its noncore businesses, particularly its smartphones and LeSports unit.
Founded in 2004, LeEco started as a video-streaming service provider, akin to Netflix Inc, but grew rapidly into a tech heavyweight with a presence in smartphones, TVs, cloud computing, sports and electric cars. Last month, LeEco announced it had abandoned its plan to acquire US television manufacturer Vizio Inc for $2 billion.