Virus hits young hardest this time of year, expert says
Share - WeChat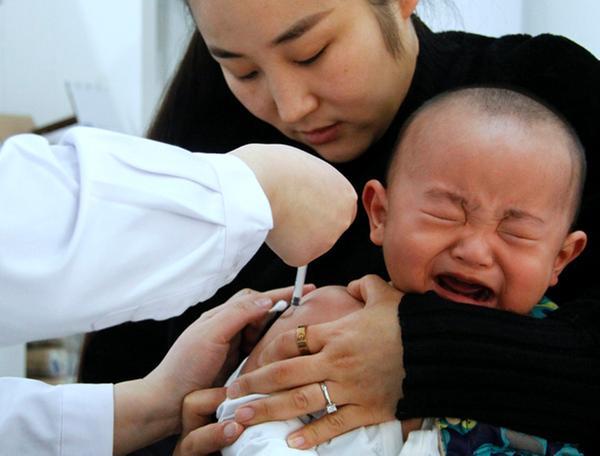 A child receives EV 71 vaccine for hand, foot and mouth disease in Huaibei, Anhui province, in January.[Photo by Li Chunhui / China News Service]
Hand, foot and mouth disease has killed about 450 children a year in China over the past decade and remains a threat, according to a senior public health specialist.
Wang Huaqing, chief immunization scientist for the Chinese Center for Disease Control and Prevention, said more than 13 million cases were reported on the Chinese mainland between 2009 and 2015, mostly in children under 5.
Since 2008, medical institutions have been required to report any instance of the infectious disease to health authorities. A national epidemic-surveillance network found more than 80 percent of the cases were among toddlers younger than 3.
In addition, the cost of treatment strains family finances. The annual medical cost to treat the virus is estimated at 2 billion yuan ($290 million) in China, Wang said, citing regional studies.
Given that the peak season starts in spring and runs to the end of summer, he urged parents to seek immunizations for their children.
China has three domestically developed vaccines against enterovirus 71, widely known as EV 71, which is the dominant strain of the more than 20 viruses that can cause hand, foot and mouth disease.
Zhao Kai, a vaccine expert at the Chinese Academy of Engineering, said EV 71 has a good protection rate among recipients and was safe.
In addition, to help protect children of other countries against the disease, China National Biotec Group, one of the three producers of EV 71 vaccine, "is seeking international approval and registration to make the vaccine available in foreign markets", he said.
Starting in May, the disease has been found at kindergartens and medical institutions nationwide, according to media reports.
"To avert severe cases and deaths, the health authority has beefed up routine epidemic surveillance and intervention at such sentinel facilities to ensure early detection and treatment," Zhao said.
According to medical experts, children younger than 3 are at greatest risk. The infection usually starts with a light fever followed by blisters and ulcers in the mouth and rashes on the hands and feet.
In serious cases, conditions such as myocarditis, lung edema, aseptic meningitis and encephalomyelitis can develop.
The virus spreads via the digestive and respiratory systems and through close contact.
Hainan, Guangdong, Zhejiang, Hunan and Fujian provinces, as well as Beijing, take the brunt of the disease.
Zhu Fengcai, deputy director of the Jiangsu Center for Disease Control and Prevention, said there are no targeted treatments to eliminate the virus.
"The current therapy is mainly alleviating the symptoms," he said. "The best approach is vaccination and prevention."