Tai chi master rises to challenge in martial arts arena
Share - WeChat Tai chi master Chen Zhenglei not only stands firm on moral ground in his response to the webpage challenge of a Japanese martial arts practitioner, but also leads the way of propriety for kung fu contestants.
Chen, the 11th generation carrier of Chen-style tai chi and also one of China's Top 10 contemporary Chinese martial artists, tops the list of four Chinese challenged by a karate club owner on his Japanese Twitter account on May 3.
The Japanese message accused Chinese martial arts as "quite fake" and practitioners in China as often "cheating". The account holder, MoonJangGyu, challenged Chen, tai chi masters Chen Xiaowang and Yan Fang, and Shaolin boxer Shi Yanjue and set a deadline for them to respond, before Wednesday. MoonJangGyu even claimed he was traveling to Shanghai for fights on Wednesday.
In his statement on Chinese social media Monday, Chen displayed the full courtesy characterized by Chinese martial arts tradition. He first stated his devotion to carrying on the tradition of both the Chen family and Chinese wushu and his belief in being kind to other people and maintaining self-dignity in handling daily affairs, teachings each Chinese martial arts practitioner must accept.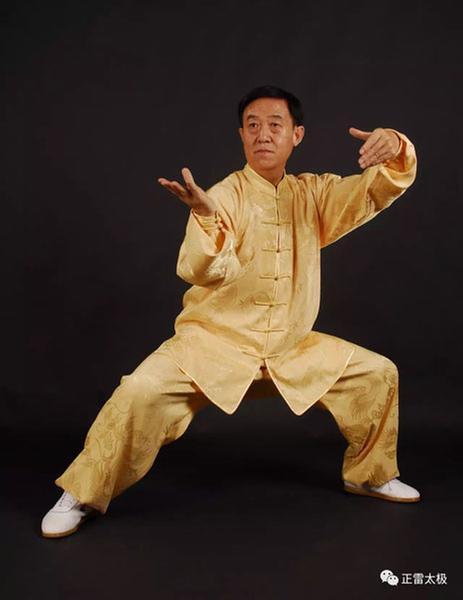 A file photo of tai chi master Chen Zhenglei. Photo provided to chinadaily.com.cn
As for the Japanese challenge for a fight, as long as his identity is affirmed and behavior ratified by related authorities, "I will rise to the challenge to fight on the immediate occasion in accordance with the principles of meeting the law's requirements, fitting into rules, and promoting exchange and friendship," Chen said at the end of his statement.
Such a challenge is not a first for Chen, and certainly not a first for a Chinese wushu practitioner in modern history. Japanese martial arts masters have been active in challenging Chinese over the past century and in helping Chinese kung fu to grow.
However, time has evolved and today's world is no longer a jungle of the fittest. The rule of law has to be followed throughout the nations for humanity to prosper properly. The martial arts circles of both Asia and other parts of the world have been mature enough to hold series of contests, often broadcast live on TV, radio and social media, each of them following distinct rules that are hammered out through debates, discussions and eventual consensus.
Under these circumstances, any high-toned wording for a private duel gives rise to suspicion of not observing today's rule of law, or holding onto movie stereotypes of old thinking, or simply self-promotion.
However, Chen did not hesitate to admit that in recent years, there indeed appeared in China cases of faking martial arts to cheat, or obtaining undue grandeur with boasting, or making a fanfare from nothing for illicit profits. He was sharp in calling it necessary for martial arts circles to crack down on the fakes and correct inappropriate behavior to sustain the healthy development of Chinese wushu or kung fu of any other nation.
However, "both cracking down upon the faking and holding real contests should be under the guidance of the Chinese Wushu Association and related government departments to achieve legal and orderly proceedings," he pointed out. And his standing here is welcome as legal authorities and supervisors are safeguarding the rule of law in our societies.
In his respect for legal and martial arts authorities, Chen, 68, displayed his sense of being law-abiding; in rising to a martial arts challenge, Chen shows respect for the potential opponent and is carrying on the tradition of tai chi and Chinese kung fu.