Ancient suds in modern mugs
Share - WeChat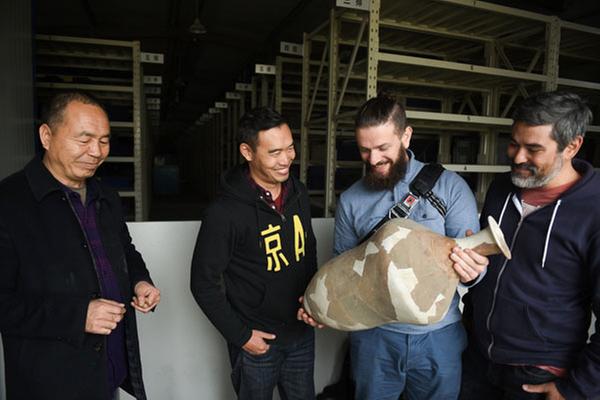 Archaeologist Xing Fulai (left) with craft brewers Kristian Li, Laszlo Raphael and Alex Acker. [Photo by Aaron Berkovich/For China Daily]
The recent discovery of a 5,000-year-old 'beer-making tool kit' in Shaanxi province inspires craft brewers in China to replicate the historic recipe, Mike Peters reports from Xi'an and Beijing.
It looks like a conventional kitchen. There are big square pans of mountain yams, ready for a 70-minute roasting. Thirty kilos of broomcorn millet are in line for half an hour of steaming. A food processor growls like a chainsaw as it chops up Job's tears, the pearly dried kernels also known as coixseed.
Anybody's grandma would wonder what on Earth we're cooking. The plan here at Beijing's popular craft brewery Jing-A is to re-create what a recently published archaeology study suggests is a 5,000-year-old beer recipe used in China's Central Plain.
"It's definitely one of the most exciting beers we've ever made," says brewery cofounder Alex Acker. He and his business partner, Kristian Li, are toting roaster pans of beer-to-be after making a quick trip to Shaanxi to collect some key ingredients, meet some of the Chinese researchers, and see "the ancient stuff" that inspired the project.
Most Popular