Nation hopes cooperation with foreign scientists can help save the animal, Zhang Lei reports
The world loves pandas. The enigmatic, retiring beasts have become a global symbol of international friendship since China first began sending them as gifts to foreign countries in the 1950s.
Until now, that is.
In September, the decision by Belgian Prime Minister Elio Di Rupo to locate a pair of giant pandas at Pairi Daiza zoo in the French-speaking region of Wallonia sparked widespread anger among the country's Flemish-speaking population.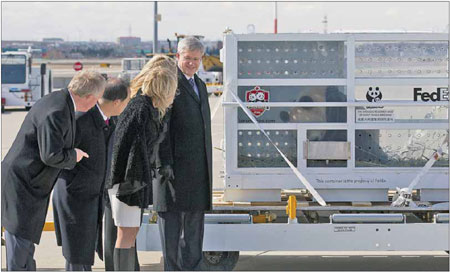 Canadian Prime Minister Stephen Harper (C), his wife Laureen, and Zhang Junsai, Chinese ambassador, greet one of the pandas that arrived in Toronto in March. Fred Thornhill / Reuters
Di Rupo, a former mayor of the francophone city of Mons, was accused of a black-and-white case of "diplomatic favoritism".
The Belgian media dubbed the spat "Pandagate", and in one fell swoop the animals - a male, Xinhui, and a female, Haohao - had, albeit unwittingly, exacerbated Belgium's deep-rooted linguistic divide and caused a major furor, a far cry from the ideals of one of China's major soft-power triumphs of recent decades, "panda diplomacy".
Mike Bastin, a visiting professor at the University of International Business and Economics in Beijing who specializes in brand management at Southampton Solent Business School in the UK, said panda diplomacy is both a symbol of genuine friendship and an excellent form of brand association, which may help the West better understand China and the Chinese people.

"The West still has much to learn about Chinese culture and the Chinese people. Pandas will always be associated with China, and their brand image fits well with the real nature of Chinese people, i.e. kind, caring and fun-loving," he said.
"Going forward, at a time when many of China's leading companies are expanding globally but perhaps have not yet developed strong brands overseas, positive brand associations such as the panda are extremely important."
A rental period of 15 years was confirmed at a Sept 13 meeting between Premier Li Keqiang and Belgium's Di Rupo. The time span raised eyebrows because China had never before signed a lease longer than 10 years. The pandas will likely arrive in Belgium in the first quarter of next year.
It seems like every country wants a panda, despite the huge expense involved - rental fees and food come in at a cool $1 million per panda per annum - and the machinations required to guarantee that a request becomes a reality.
Oral commitments simply won't guarantee a successful panda rental, according to a researcher at the State Forestry Administration of China who would only give his name as Wang.
"Strategic relationships are probably the primary criteria by which a country's qualifications are judged. For example, Belgium is currently China's sixth-largest trading partner in the European Union, with a bilateral trade volume of $26.3 billion in 2012. That's a lot of leverage," he said.
"In addition to strategic partnership concerns, prospective recipients must prove that they are capable of providing good-quality facilities in which the pandas can live and breed. And they also have to prove that they are determined to protect this endangered species."
Engineers and workers are busy constructing a home for the pandas in Belgium. Eric Domb, president of Pairi Daiza, said the enclosure will cost 8 million euros ($10.8 million) and is expected to be finished by December.
Dwindling population
However, the primary purpose of the pandas' visit will not be to draw large crowds, although that's certainly a healthy motive, but as part of ongoing international efforts to conserve and protect the rapidly dwindling population.
In the 1950s, China sent pandas as gifts to friendly countries with no strings attached. The most successful donation being that of two pandas to the US in 1972, a move announced during President Richard Nixon's historic visit to China which marked the beginning of normalized Sino-US relations.
According to China's third national giant panda population survey, by October 2011 there were fewer than 1,600 pandas living in the wild and 333 in captivity. Giant pandas usually have a life span of 18 to 20 years in the wild, and more than 30 years in captivity. Their main habitats are the mountainous regions in the provinces of Sichuan, Shaanxi and Gansu.
In 1982, in acknowledgement of the decline in panda numbers, the Chinese government stopped giving them as gifts. Instead the animals were "loaned", usually via renewable 10-year rental terms. China also banned any form of overseas panda tours for private profit.
The nature of panda exchanges has changed into an exercise focused on protecting the species through collaborative research, and China is seeking multiple ways to set up solutions for further cooperation.
The government is hoping that cooperation between Chinese and foreign scientists can develop new ways of saving the panda and the entire $1 million annual rental fee goes toward protection and research.
"If a foreign zoo wants to rent a panda, it must first draw up a feasible research program that will really help panda conservation in China," said Wang.