Behind No Name Bar, in a place where the streets are equally anonymous, sit quaint reminders of Beijing's feudal past - and its sporting future.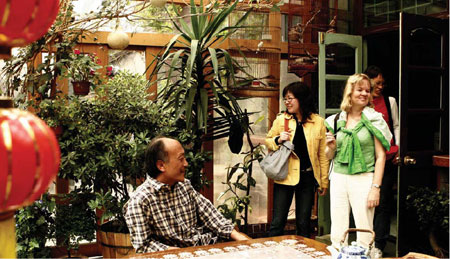 A tourist from Switzerland and her two Chinese guides get a tour of Jing's greenhouse.

In this labyrinthine hutong flanked on both sides by old Beijing's courtyard houses, or siheyuan, even the door stelps were made some 700 years ago.

When the Olympics and Paralympics roll into town next year, some of these magnificent structures will play host to the disabled athletes hoping to leave marks of their own in the history books.

Jing Jichang is so excited he has already installed a new guest in the bedroom of his centuries-old siheyuan: a thick English-Chinese dictionary.

Now he and his wife hope to spread this part of ancient Chinese culture farther afield through their interaction with foreign athletes visiting Beijing.

"I will be very glad to introduce (the Paralympians) to Beijing's siheyuan culture," said his wife, Wang Zhixi. "I'm looking forward to making them my favorite dumplings."

Not that this will be entirely new to the couple.

They have been named Shichahai's model family, testament to all the work they have put into making their Dajinsi Lane habitat look like hundreds of years of evolution have gracefully passed it by.

Inside the high, gray-tiled walls, its delicate stone carvings pose as an architectural narrative, telling the story of Jing's family history and its social status.

The 300-square-meter courtyard house was originally built in the Ming Dynasty (1368-1644). Due to people's rabid interest in its links to the glamour, wealth and privilege of imperial China, it has served as the couple's source of income for four years.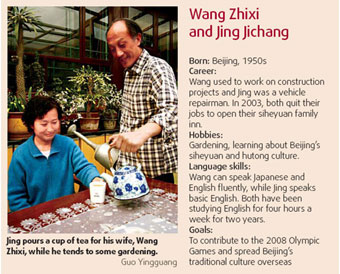 The pair provides lectures in rudimentary English and Japanese for guests coming to learn about their family museum for 20 yuan ($2.5) per person. A bed costs 10 times this amount.
Jing adapted some of the bedrooms into guest rooms complete with shower, furnace, Internet and separate restrooms. It can now house nine tourists at any one time.
With business snowballing as word of mouth spreads, Jing estimated last year's revenue from renting rooms alone at 100,000 yuan.
And if the authentic surroundings don't make visitors reluctant to leave, Wang's cooking probably will.
The  ingredients for her signature dish, stir-fried eggs with Chinese toon ("xiangchunya") leaves, are even plucked from the tree growing in their garden.