"Okay, speak with me: One World One Dream." "Louder please!"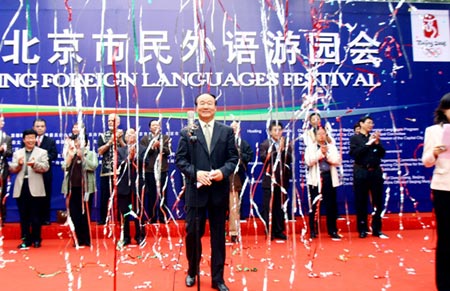 BOCOG Executive Vice-President Jiang Xiaoyu addresses the The fifth Beijing Foreign Languages Festival October 15, 2006.[BOCOG]
The fifth Beijing Foreign Languages Festival was declared open as language guru Li Yang guided local residents to follow him. Li is known as the founder of the so-called Crazy English, a stylish approach of English learning.
In his speech at the festival held over the weekend, BOCOG Executive Vice-President Jiang Xiaoyu said a large number of those who possess a remarkable talent for foreign languages and who are familiar with international customs will be needed for the success of the upcoming Olympic Games and building an international city.
Noting that the general public's foreign language competence will be essential, Jiang expressed hopes that beijingers will improve their language mastery while having fun at such events.
The festival attracted over 70 foreign languages teaching institutions and training centers, many of which organized lectures and exchange activities for German, French, Korean, Arabic languages other than English alone, a distinct character from past festivals.
More than 30 volunteers from U.S., Canada, Germany, South Korea and Russia were the limelight as they engaged in conversations at the multi-language corners. Also hot at the function were some interactive games which drew attention of many participants.