PARIS, May 17 - Justin Gatlin's 100 metres world record of 9.76 seconds has been corrected to 9.77, equalling the previous mark, the International Association of Athletics Federations (IAAF) said on Wednesday.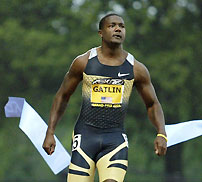 The IAAF was informed of an error in the reading of the result by Tissot Timing, the company responsible for timing at Friday's meeting in Doha.
Based on his time recorded after winning the race, Gatlin ran 9.766 seconds, which was announced as a world record 9.76, an IAAF statement read.
According to IAAF rules, this should have been rounded down to 9.77. Gatlin's time, pending ratification, equals the record set by Jamaica's Asafa Powell in Athens on June 14 last year.
"It motivates me to go out there and run even faster," Gatlin told Reuters after training in Durham, North Carolina.
"I was very upset this morning but that anger turned to motivation. I want to be the first man to run 9.7 twice.
"When I broke the world record my plan was to break the world record again so nothing has changed," he added.
The IAAF said the error had been spotted fairly early in the record ratification process which gives member federations one month to submit a form.
"Records are not ratified for various reasons. The problem here was it was a mistake, but better we admit that," IAAF spokesman Nick Davies said.
"Obviously, we're disappointed for Justin Gatlin but he's talented enough to come right back and break it again."
He added that all the times from the Doha race would have to be reassessed.
In a statement, Tissot Timing said "the IAAF rounding rule, to be initiated manually on the timing system, had not been activated as instructed.
"Tissot Timing regrets the occurrence and apologises for this unique incident."
GATESHEAD CLASH
World and Olympic champion Gatlin announced he had his sights set on the world record earlier this month after clocking 9.95 seconds in his first outing of the season in Osaka. He then ran 9.85 in the 100 heats in Doha.
"This is just more incentive for Justin to go out and break the world record again officially," his agent Renaldo Nehemiah told Reuters from his home in Reston, Virginia.
"He is in excellent shape for this time of the year. That bodes well for him."
American Gatlin and Powell, who has also run 9.95 this year, are due to clash at a grand prix meeting in Gateshead, England on June 11.