(BEIJING, August 7) -- Some 160 ethnic workers at Chinese Ethnic Culture Park participated in a rich and colorful folk sports activity Monday morning in response to Beijing Olympic organizers' call for a nationwide body-building campaign to await the upcoming Games.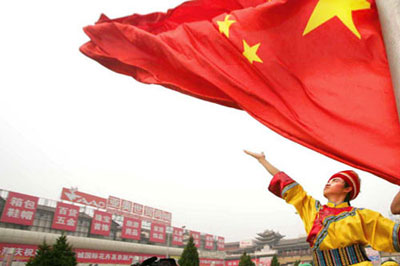 Flag-raising ceremony.[BOCOG]
The activity was part of the theme park's initiatives, showcasing the traditional sports of China's 56 nationalities, to mark the two-year countdown to the opening of the Beijing 2008 Olympic Games.
Another team of senior citizens, age 60 to 72, from a neighboring community also brought up some rhythmic sportive dances on the site. They have learnt three sets of dances the culture park has been constantly promoting amongst local residents and ethnical schools.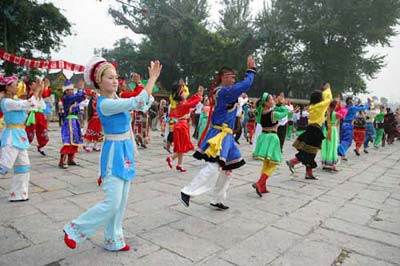 Performance by ethnic groups. [BOCOG]
"We hope these dances will be integrated into the body-building campaign, so the folk sports activities will take on more sense of the times and vitality." said the park director Li Guosheng, who even hoped that the dances will someday be practiced through the staging of the Olympics in the country.
In addition to the shows, folks of some nine ethnic groups, including Tibetan, Zhuang, Jingpo, Va, Miao, Naxi, Bai, Mongol and Tujia, also offered pieces of traditional amusement to express their greetings and longings for the 2008 Olympics.