Ungracious behaviors such as spitting and jumping queues became the top concern instead of pollution and traffic congestion among many Beijing residents with the Beijing Olympic Games only two years away.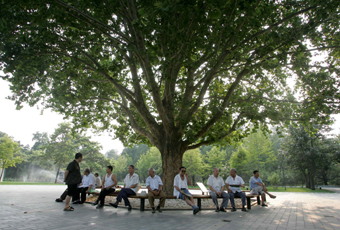 Elderly men rest at a park in Beijing, September 1, 2006. [Reuters]
"It is true that Beijing sometimes is choked with traffic jams but what bothers me the most is not the jams but some people's bad behaviors in the jams," said Zhu Feng, working with a state-owned enterprise after he returned with a master's degree from the University of Manchester in Britain.
"If everyone observes the order, I don't think the traffic jam will be that serious, but there is always someone cutting into the line or scrambling for the right of way, which is really annoying, " said the 27-year-old, who is among the ever-growing car owners in Beijing.
"And there are also other ill-mannered behaviors like spitting in public spaces or answering mobile phone during competition," he added.
Beijing Olympics bidding ambassador Yang Lan felt the same way.
"Venue construction or organizing the competition is never a problem to Beijing. My suggestion is to better promote public etiquette," she was quoted by the Beijing Times.
"The promotion should make people aware that some behavior is not good, for instance, mobile rings may sound no matter where you are," she said.
Apart from those things Beijing still needs to improve on, there are many have already made progress in, say, the environment.
"When I came back by the end of 2004, I felt that Beijing's environment improved," Zhu said. "There are more blue-sky days than the time I left."
Zhao Guiling, a 36-year-old taxi driver, agreed. "In the past few years, Beijing's environment becomes better. I can see more blue sky when I drive nowadays," she said, smiling.
After winning the Olympic bid, Beijing promised to make itself an "ecological city" with "green hills, clear water, grass-covered ground, and blue sky".
In a bid to keep the promise, the central and Beijing governments has invested nearly 100 billion yuan (US$12.5) to reduce pollution, according to the State Environmental Protection Administration.
Heavy polluters such as the Beijing Shougang steelworks have been moved out of the city, while the Beijing Coking Plant was told to stop production this July.
"It was a bitter but important decision," said Liu Qi, president of the Beijing Olympics Organizing Committee. Liu had previously worked in the Wuhan Steel and Iron Factory for more than 20 years.
Beijing has replaced hundreds of coal-burning boilers with gas-based ones, improved the city's vehicle emission standards and upgraded the quality of fuel for automobiles, Liu said.
"There is still a distance from our goal of 'Green Olympics', so we have to step up our efforts in the next two years," he said.
As for the public etiquette, Liu's answer is to arouse Beijing residents' pride in hosting the Games.
"Everyone in Beijing is a host of Beijing Olympic Games. You represent Beijing and every thing you do counts," he said. "If you don't have the chance to become volunteers, you can still help -- doing whatever you can to keep Beijing clean and orderly."
Beijing Olympic Games will lift its curtain on August 8, 2008.