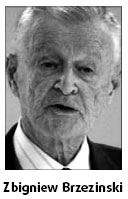 Leaders from China and the United States should meet more regularly, as the relationship between the two countries has to be "a global and comprehensive partnership", former US national security advisor Zbigniew Brzezinski said in Beijing Monday.
"Our top leaders should therefore meet informally on a
regular schedule for truly personal and in-depth discussions, not just about bilateral relationships, but about the world in general," Brzezinski said on the two-day Seminar in Commemoration of the 30th Anniversary of the Establishment of Diplomatic Relations between China and the United States.
With US president-elect Barack Obama scheduled to take office only one week after the seminar closes today, Brzezinski suggested that the two countries have "an informal G2" meeting.
The relationship between China and the US should parallel US partnerships with Europe and Japan, said the 80-year-old Brzezinski, who was former US president Jimmy Carter's national security advisor from 1977 to 1981.
Beijing and Washington now have a "common interest in global stability, in social progress worldwide and in a renovated international system", he said.
It was a totally different situation three decades ago when he played a vital role in normalizing the bilateral diplomatic relations, Brzezinski said.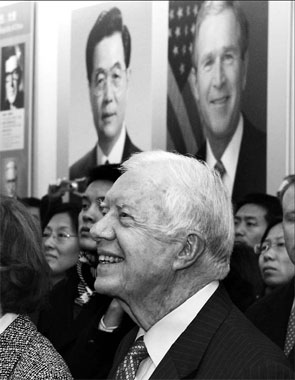 Former US president Jimmy Carter participates in the opening ceremony of a photo exhibition marking the 30th anniversary of China-US diplomatic relations in Beijing Monday. Song Jihe
In the summer of 1978, "only 1,200 foreigners were living in Beijing", Brzezinski said, referring to his first visit to China as Carter's envoy to convey Washington's determination for a normalized relationship with Beijing.
"The two leaders (Carter and then Chinese vice-premier Deng Xiaoping) had the strategic determination for a decisive breakthrough," Brzezinski said.
But today, he said the bilateral ties had stepped into an age of "constructive interdependence", in which states and their fortunes are inextricably tied together.
Relations between China and the US are now one of the key sources of global political and economic stability, Brzezinski said.
Still, while Sino-US ties have seen remarkable achievements in the past three decades, some Chinese analysts have also shown concern over the future of the bilateral ties.
For one, relations between the two have always faced progress and challenges simultaneously, "particularly during a financial crisis", said Professor Pang Zhongying of the Renmin University of China.
Each time after a crisis, protectionism would be on rise in the US, Pang said.
Aside from trade protectionism, Deputy Foreign Minister He Yafei said in yesterday's seminar that "the two sides need to properly handle sensitive issues".
The Taiwan question, which concerns China's sovereignty and territorial integrity, is China's core concern, He said.