As China and the United States are celebrating the 30th anniversary of their diplomatic ties, giant pandas continue to serve as "special envoys of friendship" in US zoos, just as they did in 1972.
"We know pandas have a special diplomatic symbol associated with them," said Lisa Stevens, chief curator of giant pandas at the Washington-based National Zoo.
"They are symbols of friendship between the United States and China," she said.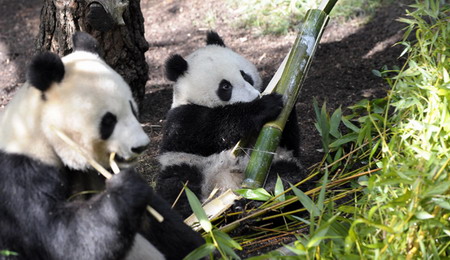 Giant panda Bai Yun (L) and her son Zhen Zhen eat bamboo leaves at the San Diego Zoo of California on December 18, 2008. The zoo has 4 giant pandas, the largest number in the United States, based on a 12-year research loan of two giant pandas since 1996. [Xinhua]
Stevens told Xinhua that she started in 1987 to take care of Ling Ling and Hsing Hsing, the first panda couple given to the US as a result of former President Richard Nixon's historic trip to China in 1972.
Ling Ling and Hsing Hsing triggered a panda craze in the United States, she said. "They symbolized the effort to conserve endangered species as well as diplomacy between China and the US and other countries as well."
The arrival of China's pandas in the US hit the headlines of major American newspapers in 1972 which are still on display in the zoo's panda house, along with various souvenirs with panda images, such as beer bottles and drawing books.
A green crate used to transport Ling Ling is also among the exhibits, with Chinese characters reading "from the People's Republic of China" on it.
When Ling Ling got sick, said Stevens, many American people, especially children, sent their best wishes on cards to the zoo. "Get well soon," one kid wrote.
The "panda friendship" was passed on to the second generation of panda couples in the National Zoo, where Tian Tian and Mei Xiang arrived in 2000. Tai Shan, the male cub they gave birth to in 2005, is now a star at the zoo, said Stevens.
"Chinese pandas are so charismatic and so they attract people to the cause of conservation and get people to care not only pandas but also other animals as well," she said.
Currently, there are four pairs of pandas and four panda cubs in the US, living in the National Zoo, the San Diego Zoo, the Atlanta Zoo and the Memphis Zoo respectively.
Stevens said the zoos are very committed to working with China to solve panda's conservation issues, and give them the best care they can.
In the latest example of the friendship, after a devastating earthquake in May 2008 rocked southwest China's Sichuan province where the Wolong panda breeding base is located, American panda lovers also stretched out their helping hands.